Potomac — Dr. Seuss's Lorax finally appeared more than two hours into Montgomery County Council's debate on tree canopy.
"Who will speak for the trees?" said Councilmember Valerie Ervin.
"Today, all of us are speaking for the trees, and in the end, I think the trees are going to win in Montgomery County," she said.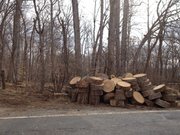 Montgomery County Council approved bills 35-12 and 41-12 at its regular session on July 23. The bills protect trees in the county's right of way and on privately owned land to preserve the tree canopy.
"We have two bills and they're important bills and they fundamentally assert the value that our county puts in preserving trees," said Councilmember Roger Berliner. "Our community places great value in our trees for environmental reasons, for aesthetic reasons and for economic reasons, and these bills reflect those values."
The bills will protect roadside trees targeted for trimming, to be cut down or otherwise damaged, and "will require owners of infill development properties to plant trees to bolster the county's tree canopy," according to the council.
"Today is a big day for everyone who loves trees," said Berliner.
THE COUNCIL VOTED unanimously to approve the Tree Canopy Conservation Bill, 35-12.
"Today is a big day for everyone who loves trees."
— Councilmember Roger Berliner
According to county documents, the Tree Canopy Conservation Bill will require property owners who apply for a sediment control permit to plant trees even if they did not take down trees as part of their development. Sediment control permits are required if more than 5,000 square feet of property would be disturbed. The bill is intended to help the canopy of shade trees that benefit the county in numerous ways. The bill would not apply to major developments, which have a different set of tree protection mitigation requirements.
The Tree Canopy Conservation Bill requires property owners to plant three shade trees on a smaller lot and a greater number of trees on larger lots. Property owners have the option of paying into a fund for tree canopy conservation projects. The bill would require 400 square feet of open space per shade tree planted onsite.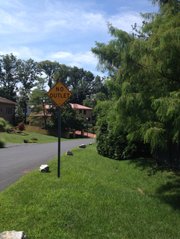 Bill 35-12 also would require the county's Department of Environmental Protection to develop a comprehensive county-wide shade tree planting plan, according to county officials.
"This bill is a giant step forward," said Councilmember Marc Elrich.
"This bill goes some place we haven't gone before," said Councilmember Nancy Floreen.
"All of us agree that tree canopy is important," said George Leventhal.
"I can't tell you how enthusiastic I am about engaging in a comprehensive tree planting campaign," said Hans Riemer.
"We are making a very significant advance in terms of protecting our tree canopy in our county. We are doing something we have not ever done before," said Berliner. "This bill has been five plus years in the making. It is a major environmental initiative of the administration."
A SECOND TREE BILL faced some opposition but also passed.
Berliner and Elrich sponsored Bill 41-12, the "Roadside Trees - Protection," which the council approved 7-2.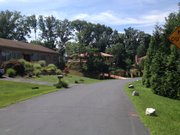 Councilmembers Floreen and Leventhal dissented.
"The simplification of this bill is not appreciated by this councilmember because it is a complicated discussion," said Leventhal.
"My sense about this bill is it will not accomplish the things that people who are writing me think it will accomplish," he said. "It's not likely that this bill will change the rate at which approval will be granted to remove trees."
"An unnecessary piece of legislation," said Floreen.
It took 19 drafts of the bill to get it prepared for vote.
"We have worked, reworked and reworked these bills over and over again," said Berliner.
"It emanates from one of the strange quirks in our legal system. We have a state law that was passed in 1914 that purported to protect our assets and our streets trees in our county's right have way," Berliner said. "I have to say, perhaps in 1914 that was the right thing to do. But in 2013? Really? We need a state law to tell us how to manage our assets in our county's right of way? I don't think so."
The bill protects trees that are in county right-of-ways, according to county documents. Some trees that a property owner considers to be their trees actually are in county right-of-ways and Bill 41-12 would apply in those cases. In some cases, property owners want to cut down trees they believe to be unsafe, but when a property owner wants to cut down a roadside tree for other reasons, they would have to get a state tree care permit and a county right-of-way permit, according to county documents.
The bill authorizes the Department of Transportation to create a tree replacement fund to pay for needed roadside trees. An applicant who wants to cut down or trim a roadside tree will be required to get a county right-of-way permit from the Department of Permitting Services. That application will be required to include a site-specific tree protection plan.
The bill also requires a permittee who removes a roadside tree both to plant another tree from a county recommended tree list at or near the site, and also to pay into a tree replacement fund that will allow the county to plant two more trees in a right of way, according to county documents.
"At its basic level, this bill says if you are working in our right of way you need to make sure that you are protecting our county assets," said Berliner.
"Even internally, our bureaucracies really didn't understand who was in charge of what and how to take care of this," he said. "So on a fundamental level, this bill is simply clarifying the ambiguity that exists because of the ways in which the laws have been interpreted and not understood clearly. And now they will be and everyone can more forward with great clarity."
The effective date of both bills will be March 1, 2014, according to council documents.