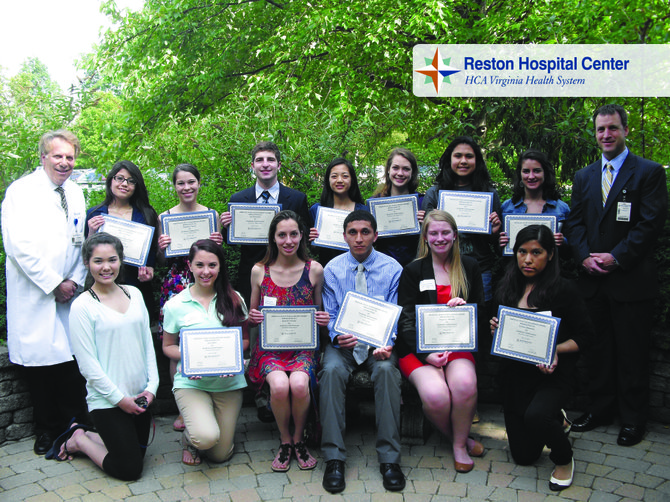 Reston — Reston Hospital Center awarded scholarships to 11 Fairfax County High School seniors in recognition of their academic excellence and excitement for pursuing a career in healthcare.
John Deardorff, president and CEO of Reston Hospital Center, said at the award ceremony that he was delighted to support the students, all of whom are looking to further their interest and education in the healthcare field.Each year the medical staff at Reston Hospital Center offers $15,000 in scholarships to local high schools. This year, McLean, Chantilly and Westfield were added to the list of high schools that receive the scholarship. For the past 15 years, Reston Hospital Center has awarded more than $200,000 in academic scholarships to students in Northern Virginia.
The recipients of the Reston Hospital Center medical staff scholarships are: Montserrat Alvarez, Herndon High School; Jenny Chau, Westfield High School; Madeline Farmer, Oakton High School; Priscilla Fiores, South Lakes High School; Syed Hossain, Herndon High School; In Ah Jung, Langley High School; Debbie Ledezma, Mclean High School; Hanna L. Mitchell, James Madison High School; Jona Qorri, Chantilly High School; Tommy Reyes, South Lakes High School; and Margaret Sabo, Chantilly High School.