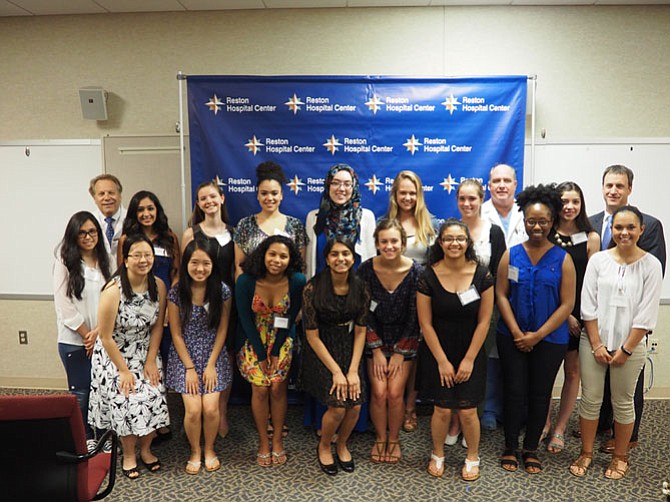 The Medical Staff of Reston Hospital Center awarded scholarships to 19 Fairfax and Loudoun County High School seniors in recognition of their academic excellence and excitement for pursuing a career in healthcare.
At an award ceremony at Reston Hospital Center, John Deardorff, president and CEO of Reston Hospital Center and HCA's Northern Virginia Market, said, "These students are well deserving of the medical staff scholarships as they begin their journeys of exploring careers in the healthcare field. We hope that one day they return to their roots as members of our local medical community."
Each year, the Medical Staff at Reston Hospital Center offers $15,000 in scholarships to local high schools. Over the past 16 years, Reston Hospital Center's Medical Staff has awarded more than $250,000 in academic scholarships to students in Northern Virginia.
"It's the choice of our medical staff to support these young adults as they venture into the world in search of their dream careers. We are proud to support such passionate and driven students from our local community as they work towards becoming the future of healthcare," said Dr. Mark Madden, president of Reston Hospital Center's Medical Staff.
The recipients of the Reston Hospital Center Medical Staff Scholarships are: Alexa Binckes- Briar Woods High School, Shanze Eshai and Izaballa Valdez – Broad Run High School, Rebecca Yoo – Centreville High School, Elise Mazzone and Sneha Suresh – Chantilly High School, Sabrina Tolbert and Antonia Osei and – Herndon High School, Joyce Cheng – James Madison High School, Julia Knepper and Nadia Malik – Langley High School, Gilian Wright and Gulenay Saydahmat – McLean High School, Sosan Noori – Oakton High School, Nardin Ageeb – Potomac Falls High School, Jenessa Lopez and Tara Vaughns – South Lakes High School, and Iqra Tariq – Westfield High School. The Reston Hospital Center Medical Staff congratulates these outstanding students, and are proud to support their continuing education and passion for healthcare.