Photo Gallery
Reema's Cabaret 2013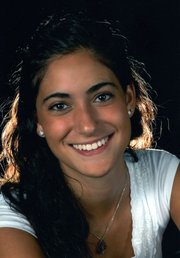 Remembrance Cabaret for Reema Samaha is June 15.
Click Photo for Flash
Centreville — The annual Remembrance Cabaret for Reema Samaha is a time when people honor the memory of a talented young woman who died in the Virginia Tech tragedy. It's also an evening packed with singing, dancing, comedy sketches and fun.
This year's event is Saturday, June 15, at 7 p.m. at Westfield High. But it actually begins at 6 p.m. with a silent auction and bake sale that continue during intermission. The event is free, but donations are welcome.
Attendees may contribute to The Reema J. Samaha Memorial Scholarship Fund — awarded to students at both Westfield and Herndon high schools — and/or Angel Fund, a nonprofit founded by the Samaha family to create safer schools and communities by focusing on mental-health issues, privacy laws and information sharing.
A 2006 Westfield High grad, Reema was also known for her dancing. So, said her mother, Mona Samaha, "The cabaret is a celebration of the arts in Reema's name. It's a beautiful occasion, happy and peaceful, and I believe that everyone attending feels honored to be there."
Angel Fund President Lu Ann McNabb, a longtime friend and neighbor of the Samahas, organized the artists providing donations for the silent auction. Cabaret Director Ashley Dillard, a friend and classmate of Reema's at Westfield, organized the performers. Westfield grad and WJLA-TV reporter Jummy Olabanji will emcee, and Westfield grads Branson Reese and Jesse Leahy will host.
"I am honored to be a part of this event every year, and it could not be for a better cause," said Dillard. "Every year we gather an eclectic group of artists, with acts ranging from singing to comedy sketches, to highlight the spirit of Reema."
Not everyone who performs knew Reema. But, said Dillard, "We all realize the bigger picture of coming together to remember such a tragic event and strive to create something beautiful from it. It's one of the noblest and vivacious events I've ever put my name to and I will continue to do so."
Virginia Tech's Contemporary Dance Ensemble (CDE) will perform "Andaloosia," the dance Reema choreographed and performed with the group as a freshman there. A moving tribute to her, it's become a cabaret tradition.
Many Westfield grads who were involved in theater here and at college come home each spring to participate in the cabaret, as well. Claire Manship and Brittany Martin will sing a mash-up of "Sooner or Later" and "The Man that Got Away," and Dallas Sweezy and Friends will do a Monty Python sketch.
Carolyn Agan will sing, and Corinne Holland will perform a solo dance, as will Nick Burroughs, Lauren De Vera and Ahmad Maaty. And Jon Lawlor will sing and play guitar.
Teaming up to perform "When I Grow Up" by First Aid Kit are sisters Ashley and Phoebe Dillard, who'll sing, while sisters Michelle, Monica and Meredith Murgia dance, Chris McNabb plays drums and Dan Hrebenak plays guitar.
Rachel Harrington, accompanied by Jon Blank, will sing "Climb Every Mountain" from "The Sound of Music," in which she played Mother Abbess in Centreville Presbyterian Church's production. And current Westfield senior Madeleine Bloxam will sing "Wherever You Will Go."
Herndon High seniors Paul Morgan, Molly Nuss and Megan Overton will perform a medley from the musical, "Brigadoon." Westfield's improv team, captained by Olivia Witt, will do a comedy sketch called "Hokie Pokie." And Herndon's improv team, captained by Hunter Robinson, will do likewise.
Nancy Dougherty will sing, as will Anne Dueweke and Shannon Douglass. Ritmo Dance Group, directed by Judi Condezo Mori, will do Latin dancing. And professional operatic soprano Andrea Thornock, accompanied by her mother, Rochelle Thornock, will sing "Nella Fantasia."
Katerina Rodgaard, Reema's high-school dance teacher, will perform the dance, "For Reema." She's been dancing professionally, teaching and choreographing for more than 17 years and teaches and works for Moms Demand Action for Gun Sense in America. In March, she spoke about Reema at the White House.
In addition, Sophia Teie of Actively Caring for People (http://www.ac4p.org/mission), will talk about the group's mission to reduce bullying behavior by promoting and rewarding its opposite — actively caring. With the support of organizations such as the Virginia Tech Victims and Families Foundation and Angel Foundation, it's already helped bring about a 50-percent decrease in bullying behavior within elementary-school classrooms.

Besides the entertainment, cabaret attendees will be greeted by an array of silent-auction items. "We're humbled by the generous donations," said McNabb. "We're touched by the beautiful works of art contributed by young people and members of the community, including out-of-state friends and supporters."
Auction items include an autographed, Washington Redskins football donated by Redskin and Westfield grad Evan Royster, a Washington Nationals baseball signed by Drew Storen, eight tickets for the Nationals-Phillies game in the Diamond Club section (with two parking passes), and a round of golf for four at Evergreen Country Club.
Also up for bids are an eight-person tour of the Airbus A380 at Dulles International Airport, a day with state Sen. Chap Petersen (D-34) in Richmond, plus a tour of the capitol, and a coaching and personal-development session with Coach Marvin Powell.
There'll also be a variety of jewelry, chocolate and bath baskets, as well as artwork — including pottery, drawings, paintings and photography — plus gift certificates from local restaurants and businesses. Proceeds from the bake sale and silent auction will also go to The Reema J. Samaha Memorial Scholarship Fund and the Angel Fund.
All in all, said Ashley Dillard, the cabaret should be an exciting and enjoyable event. "One of the best things is that we have students, professionals and friends of Reema who gather to share our passion for the arts in her name," said Dillard. "Reema represented everything positive and beautiful about Westfield theater and we try to share that positive energy with the community through the Remembrance Cabaret celebrating her amazing spirit."