Photo Gallery
Reema's Cabaret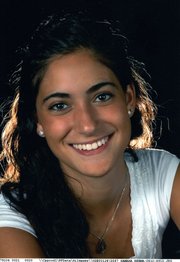 Click Photo for Flash
Certainly, 2006 Westfield High grad Reema Samaha is known as one of the people who lost their lives in the Virginia Tech tragedy. But she was much more — a daughter, sister, friend and a talented dancer with a dazzling smile.
And each spring, there's a Remembrance Cabaret at Westfield in her honor. This year's event is Saturday, June 14, at 7 p.m. at Westfield High, 4700 Stonecroft Blvd. in Chantilly. Doors open at 6 p.m. for a silent auction and bake sale that continue during intermission.
It's an evening filled with singing, dancing, comedy and fun, but it has a serious purpose, too. The event is free, but donations are welcome.
Attendees may contribute to The Reema J. Samaha Memorial Scholarships — awarded to students at both Westfield and Herndon high schools — and/or to Angel Fund www.angelfundva.org. It's a nonprofit founded by the Samaha family to create safer schools and communities by focusing on mental-health issues, privacy laws and information sharing. Those unable to attend the cabaret may still donate at https://www.angelfundva.org/donate/.
"Reema loved life, laughter, theater and creative arts," said her mother, Mona Samaha. "She appreciated diversity and she empowered herself with cultural understanding. The Remembrance Cabaret is a festive occasion that unites the community to remember and to honor Reema as we appreciate and promote music, dance, theater and creative arts in all their varieties."
Some of the many acts performing include the Gin Dance Company; Ritmo DMV Latin Dance Group; Boyle School of Irish Dance; Lauren De Vera; Ahmad Maaty; Laura Lamp; singers Carolyn Agan, Martina Green and Jade Jones; Westfield's improv team and students from Herndon High's musical, "Seussical."
Westfield grad Jones is bringing cast members from "Hair," which performed in Washington, D.C.'s Keegan Theater. Also entertaining will be Westfield grads Josh Braunstein, slam poetry, and Jon Lawlor, singer/guitarist. Cabaret Director Ashley Dillard, a friend and classmate of Reema's at Westfield, organized the performers. Westfield grads Sean Youngberg and Barry Armbruster will emcee.
"Reema loved to perform," said Angel Fund President Lu Ann McNabb, a longtime friend of the Samahas. "She embraced everyone and welcomed all into her circle. Her eyes always sparkled on stage and she had the most incredible smile. We host our cabaret every year because we want to remember Reema's beauty and because we want to share her love of the arts with our community.

"The arts bring people together: the performers who travel great distances to dance, sing, play music and act, the artists who contribute their paintings, prints and photographs to our silent auction, and the local businesses and community members who donate goods and services."
Although the cabaret demands lots of preparation and organization, Samaha enjoys and looks forward to it "just the way Reema used to get excited for her dance and theater shows, despite the tiring rehearsals. This is an event close to the heart because it's the product of the pure love and dedication of all those involved. We're grateful to our community that continues to reach out to us and show us their love and support."
At each cabaret, VT's Contemporary Dance Ensemble performs "Andaloosia," which Reema choreographed when she was there. And, said McNabb, "Every time I watch it, I see her on stage and I cry. I'm moved by the young people who dedicate their songs, art and dance to her. I also laugh at Reema's brother and sister, Omar and Randa, who push the boundaries with their comedic sketches. And I'm touched by the artists and community members who are so generous with their time and talent."
Silent auction items include art, a signed Washington Redskins football, signed Tampa Bay Buccaneers jersey, Washington Nationals tickets to Orioles and Phillies games, golf for four at Chantilly National Golf and Country Club, gift certificates from local restaurants and businesses, plus a variety of gift baskets and jewelry. Also up for bid will be a $400 gift certificate from Broadway.com, courtesy of Westfield grad Megan Meadows, a car-detailing from Ourisman Toyota and a teeth bleaching from local dentist Bruce Hutchison.
In addition, Angel Fund is raffling off two tickets to the Nov. 28 football game when Virginia Tech plays against UVA at home. Included in the raffle is one night at Rockwood Manor (http://rockwood-manor.com). Raffle tickets are $10 each at the cabaret, or order them online at https://www.angelfundva.org/raffle.
"We're grateful to 1986 Virginia Tech alum Bruce Wilson and his company, Wilson's Asphalt Maintenance, for so generously offering this football-weekend package," said McNabb. "The drawing will be held and the winner notified on Oct. 28."
Anyone who'd like to help with the silent auction should contact Nancy Hutchison at nhutch@cox.net or Lucy Richter at relest8lucy@aol.com. Snacks and beverages will also be offered. To donate water, soda, baked goods or other snacks, or volunteer, contact
Mary Swearingen at mswearingen2@verizon.net.
Cabaret T-shirts will also be sold; see www.angelfundva.org. To see a video of some of last year's cabaret performances created by McNabb's son Chris, go to https://www.youtube.com/watch?v=sUhDwXW1-k&feature=youtube.
"We love the excitement of the audience who appreciates the elegance and professionalism of our performers and who lingers over the silent-auction items," said Lu Ann McNabb. "And Ashley Dillard does a tremendous job organizing our performers and managing the production. I'm so grateful for her vision and enthusiasm in presenting a professional production for all to enjoy."
McNabb said the "incredible generosity of those who attend" enables Reema's parents to give scholarships and allows Angel Fund to implement its program, Actively Caring 4 People, in Fairfax County Public Schools and advocate for laws impacting mental health and campus safety. Said McNabb: "Together, the artists, performers and community give back to make a difference in the lives of so many — just as Reema would have done."