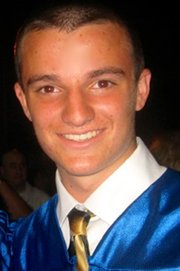 Fairfax — On April 26, 2009, Ryan Lopynski was a freshman at Virginia Tech who'd come home to Clifton's Hampton Chase community to visit his family and seek a summer job. But he collapsed at home and suffered a fatal heart attack.
Afterward, his parents established the Ryan Lopynski Big Heart Foundation to honor his life and to raise public awareness about sudden cardiac arrest in young adults.
And on Saturday, June 15, from 9 a.m.-3 p.m., at Robinson Secondary School, the foundation will offer free EKG screening/readings to all Fairfax County high-school students. Robinson is at 5035 Sideburn Road in Fairfax; use entrance No. 3 and go to Davala Hall.
One high-school-aged athlete suffers a sudden cardiac arrest every three days in the U.S. The leading cause of death in young athlete on the playing field is an undetected heart condition. The best way to detect these heart conditions is through a heart screening using an EKG (Electrocardiogram).
Go to www.ryanlopynski.org and click on "Heart Screenings" to register for a free EKG screening/reading and to download the Permission and Waiver form. Bring the signed and completed form to the screening. A parent or legal guardian must accompany their child to the EKG screening.
One of the missions of Ryan's Foundation is to screen high school athletes in hopes of preventing other families from experiencing