Sexual Assault Charged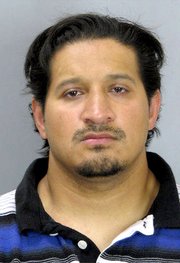 Fairfax County police have charged a Lorton man with two sexual offenses. He is Tabbasum H. Gilani, 29, of 7965 Almeda Court. On Saturday, June 8, at 4 p.m., officers were called to 6364 Springfield Plaza to speak with a 23-year-old woman who reported that she'd been sexually assaulted.
Earlier that day, the victim was detained and charged with misdemeanor shoplifting. Police say she claimed a loss-prevention officer coerced her into performing a sexual act. The victim was transported to the hospital.
Meanwhile, detectives conducted an investigation that led to the arrest of Gilani—the loss-prevention officer who'd detained the victim earlier in the day. He was charged with abduction with intent to defile and forcible sodomy and transported to the Adult Detention Center.
Anyone with information is asked to contact Crime solvers at 1-866-411-TIPS/8477, e-mail www.fairfaxcrimesolvers.org, text "TIP187" plus a message to CRIMES/274637 or call police at 703-691-2131.
Recycle During Electric Sunday
Residents may recycle old TVs, computers, peripheral electronic devices—such as keyboards, speakers, printers and scanners, as well as household hazardous wastes—including fluorescent light bulbs and tubes, for free, during Fairfax County's "Electric Sunday" events. The next one is slated for Sunday, June 23, from 10 a.m.-3 p.m., at the I-95 Complex, 9850 Furnace Road, Lorton. For more information, call 703-324-5052.