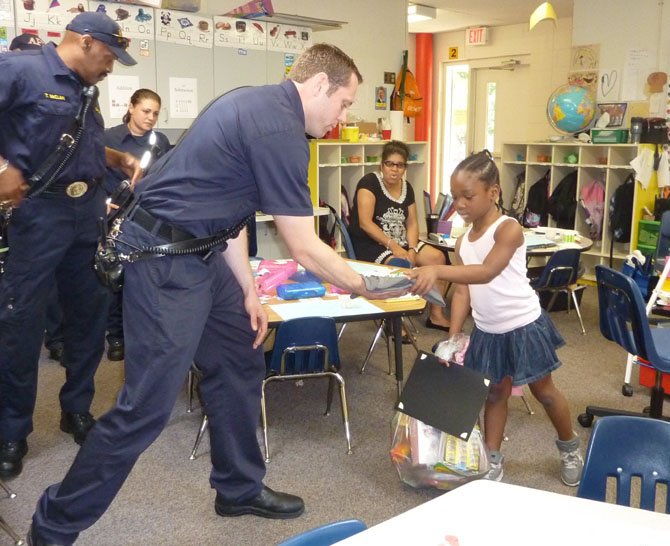 Photo Gallery
Star Siblings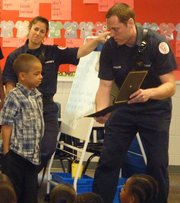 Click Photo for Flash
Alexandria — Firefighters from Stations 208 and 209 paid a visit to Jefferson-Houston Elementary School June 12 to present a certificate of appreciation to a brother and sister for their composed handling of a 911 emergency call during a life-threatening situation.
Javonne Sydnor, 7, and Jordan Sydnor, 6, were home with their mother Yvonne on April 26 when she suffered a seizure. The two siblings calmly called 911 and assisted first responders upon their arrival.
"My mom was sitting in my sister's room and fell off the bed," said Javonne, a first grader at Jefferson-Houston. "I could tell she was hurt. She was shaking."
In front of Javonne's classmates, firefighter Nathan Krause described how Javonne opened the door for first responders and helped secure the family dog so that medical treatment could safely be administered to Yvonne Sydnor.
"We learned in school how to call 911 and to try to help the firemen do their job," Javonne said.
Following a brief talk on 911 and emergency safety, Krause presented Javonne and Jordan with award certificates from Alexandria Fire Chief Adam Thiel. Captain Thurston McClain presented each of the siblings with a bag of toys on behalf of the Black Professional Firefighters Association and T-shirts were presented by the local firefighters union.
"I tried not to be scared. I tried to be brave," Javonne said. "I'm just happy my Mom's OK."