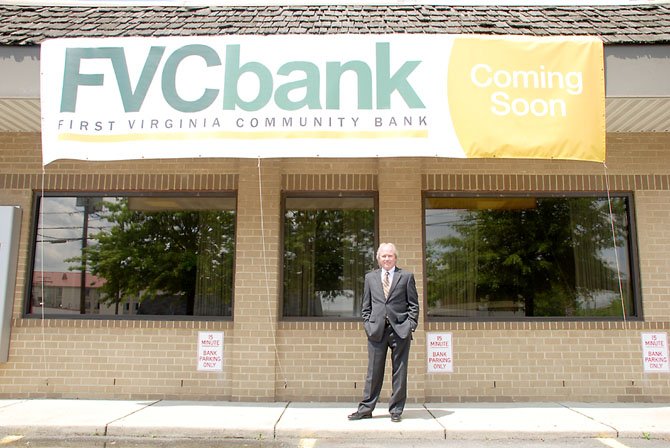 Pinstripes. His sharp power suit (purchased from long-time customer Francis Tailors in Annandale) is about the only quality Todd Lattimer shares with the stereotypically stingy, cold, possibly monacled, yet well dressed image of a banker.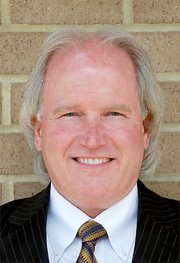 The highly affable Annandale native has forged a 36-year career in the profession of community banking: serving the area by building trusting relationships with small businesses. His commitment to this people-first ideal is one of the main reasons Lattimer was recently selected to join the team at First Virginia Community Bank as it opens a Springfield branch, the fifth location since the locally owned bank was created in 2007. It also earned him the nickname "Mr. Springfield."
"Todd is a consummate banker," said David Pijor, chief executive officer of the fast-growing FVCbank and a 30-year Oakton resident. "You're never a number. He knows you, your family, your children, your business partners. That's the way we try to bank—it was just a wonderful fit of values."
Now 53, the 17-year-old Lattimer started work in Springfield as a drive-in teller for Virginia National Bank in 1977. That location was in a trailer, with a "little box" in the back serving drive-in customers. His aptitude for the work quickly got him moved inside, and soon more promotions followed.
After a stint in Tysons Corner, Lattimer returned to Springfield in 1983 to help organize Prosperity Bank and Trust. He left behind more than he expected: "All of the sudden," he said, "my phone started ringing. People I was taking care of in Tysons asked, 'Where'd you go? Can I come open my account?' That's when the light bulb went off: If you take care of people, they want to bank with you."
Taking care of others in the community has been Lattimer's mantra for the last 30 years. He simply views himself as a role-playing part of a team. "Small business people are experts at what they do," said Lattimer, "but they're not lawyers, bankers or accountants. They need that outside team of those experts—that's my perfect fit."
But more than simply offering financing to youth sports clubs and start-up concrete companies, Lattimer is a model corporate citizen for his clients. His laundry list of community involvement includes previously serving as president of both the Greater Springfield Chamber of Commerce and Springfield-Franconia Lions Club, as well as work with Jr. Achievement, the American Heart Association and Springfield Days.
"Todd is a wonderful banker. He gets to know you, understands your business, reacts to the needs of the commercial world," said decades-long friend and client Ron Devine, owner of A&R Foods and the Springfield Tower Building. "But beyond that, what I've seen Todd do is have civic responsibilities. His community and philanthropic work sets him apart. He knows what that means."
For Lattimer, who has grown up watching Springfield grow and develop, all his work—professional and otherwise—is simply about making the community a better place. It's about enriching the opportunities for families like the one he built with wife Theresa and sons Michael and Tommy.
When long-time client Springfield Youth Club was interested in adding an artificial turf field to the sports complex they share with West Springfield High School, they came to Lattimer with no guarantors and no collateral. "A big bank wouldn't do that," he said. "Thats a community bank deal. This is good for the youth club, this is good for the high school."
Lattimer was able to work out a loan deal for roughly $1 million to put in the field. It was a milestone in the pair's relationship, but not the only one he is concerned with. "I don't ever look at one loan as it," said Lattimer. "It's more about the relationship. I'll give them their best option. I don't care about that one transaction, I want them all. I want to be in that role, the relationship advisor."
His perspective on small business clients, then, is more that of a father figure than Uncle Pennybags. "What makes you feel good is you played that role," Lattimer said. "You provide access to capital, you watch them be successful, create jobs and do great things in the community." And that way, everyone passes "Go."