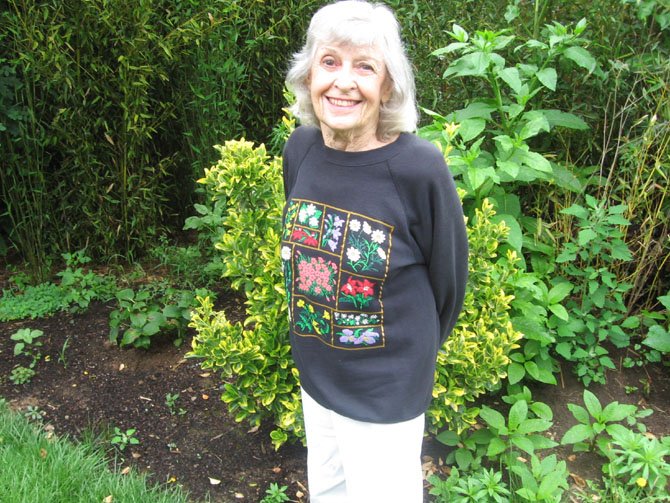 Mount Vernon — The Fairfax County Park Authority has decided to name the Huntley Meadows Park Visitor's Center after Norma Hoffman fro her long-time commitment to the park.
Shortly after the Park Authority acquired the Huntley Meadows wetlands park in 1975 the idea of constructing a four-lane highway through the park gained momentum. Hoffman, who moved with her family into a home nearby around that time and became a regular volunteer at the park, soon realized what would be the highway's impact on the park.
She is credited with saving Huntley Meadows Park by providing the leadership to organize a grass roots effort that eventually brought to a halt what seemed at the time an almost certain plan to construct the highway through the park that would have connected Telegraph Road to U.S. 1. The fight to block the road took decades to achieve. According to observers the effort to stop the road construction would not have been possible without the quiet determination, organizational brilliance, and relentless effort of Hoffman. To mount support for not constructing the road, she founded the Citizens Alliance to Save Huntley (CASH), mobilized a large group of supporters, enlisted the pro bono legal assistance of Covington & Burling, and provided the steady leadership that not only stopped road construction plans but generated a renewed focus and appreciation for the 1,400-acre freshwater wetlands park and its value to the community.
Norma Hoffman's Early Years
"I was born and raised in Boston, Massachusetts. As early as 3 years old I began to take dance lessons. I loved to dance. By the time I was a teenager I was a paid chorus line dancer at the prestigious Latin Quarter Club. I did two shows a night, and was paid $40 a week, a very good sum at that time.
"I graduated from high school but didn't go on to college. My family couldn't afford to send me to college during the Depression. Then I met and married my husband Fred, and we moved to Washington, D.C. where he took a job as a newspaper reporter. We first lived at Park Fairfax before moving to our present home.
"I had one child, Lisa Hoffman, who I am proud to say is an accomplished journalist and now a desk editor for the Scripps Howard News Service.
"As for my work history, soon after we moved from Boston I went to work on Capitol Hill for Congressman Isadore Dollinger, and then Congressman Christian Herter, who eventually became U.S. Secretary of State. I loved working for him. Much later I worked as a volunteer and managed former Sen. Hubert Humphrey's Presidential Campaign in the city of Alexandria. I eventually left the Hill and accepted a job which gave me first-hand exposure to environmental protection issues while working for the Potomac Appalachian Trail Club. I have been happily married for 68 years to Fred, a former Associated Press reporter, and Deputy Assistant Secretary of Defense for Public Affairs during the tenure of Secretary of Defense Cap Weinberger."
Thus, the political effort and debate to halt the plan to build the road through the park also strengthened the park's community support and participation that continues today.
Educational programs for children and adults, and appreciation tours and programs about the diverse and abundant wildlife are regular features of the park. But there is more to the story about the 38 years of volunteer work Hoffman devoted to the park: Not content to focus only on the park, she also organized a successful effort to get the Park Authority to acquire a nearby historic property which was in neglect and disrepair, now called Historic Huntley. Originally built in 1825 for Thomson Francis Mason, the son of George Mason and a former mayor of the city of Alexandria, it has recently been restored and is on the National Register for Historic Places, and is now open for visitors and students of historic properties. In addition, she mounted a successful campaign to acquire an additional 100 acres of wetlands to Huntley Meadows Park.
Her husband, Fred Hoffman, describes her: "She has a soft manner; does her homework; and has a knack for mobilizing support while simultaneously negating opposition to her positions. She has the kind of determination and organizational ability that creates winning situations."
Her daughter, Lisa Hoffman, said: "Her brilliance was in creating the groups that Margaret Mead spoke of and is one my mom's favorite quotes 'never doubt that a small group of committed people can change the world' …. She found and nurtured flocks of park supporters — scientists to build a case for protecting the wetlands, pro-bono lawyers to wage legal fights, well-placed officials, sympathetic lawmakers, devoted nature lovers . she inspired them to get involved … and when they had success, gave all the credit to them…. Her generous spirit extended even to her foes, who learned her tiny stature hid the heart of a lion. Even after decades of pitched battles, she had no enemies. Opponents, sure, but no enemies."
Carolyn Gamble, recently retired site manager for the park, said: "Norma is my hero. Having the visitor center named for her means her story will continue to inspire future generations. Visitors will learn how one woman's courage, courtesy, persistence, and intelligence saved a wetlands park."
Cathy Ledec, president of the Friends of Huntley Meadows Park, said: "I know now when I walk the trails, listen to the wind rush through the leaves on the trees in autumn, and when I hear the birds singing loudly, it is really Mother Nature saying thanks to Norma for making sure that we can still have this special place to enjoy …. all of us who follow in your footsteps can be proud to say that we learned from you and we will continue to enjoy all that is Huntley Meadows Park, all because of you."
Park Manager Kevin Munroe, in announcing to park volunteers the decision by the Park Authority to name the visitors center after Norma Hoffman, included the following accomplishments:
Created the Friends of Huntley Meadows Park, the first such Friends group in Fairfax County, now replicated for other Parks in the county.
Created the Citizens Alliance to Save Huntley (CASH) to stop the road from going through the park; an effort that took several decades.
Founded the citizens group that advocated for making the Historic Huntley Mansion a Fairfax county park authority property
Leading countless programs at the Park and inspiring thousands of children to love and appreciate nature.
Commenting on having the visitor center named after her, Norma Hoffman said, "It is a great honor and I am deeply moved by it. The future of the park rests in the hands of generations yet unborn and, therefore, we must continue to urge parents, teachers, and others to promote visits to the park by each generation of our children so that they will acquire the love of the park and its inhabitants as we have. In this way we will recruit new generations of supporters to provide the eternal vigilance that is necessary to preserve and protect this fragile urban wetlands."