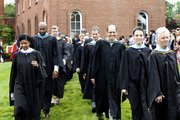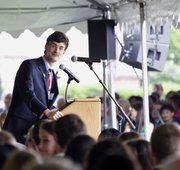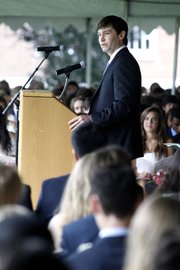 Alexandria — St. Stephen's & St. Agnes School celebrated the Commencement of the 111 members of the Class of 2013 on Saturday, June 8.
The SSSAS Class of 2013 was collectively accepted to more than 150 colleges and universities, including Harvard, Princeton, Yale, Penn, Dartmouth, Northwestern, Brown, Georgetown, UCLA, Virginia, Wake Forest, Tufts, Michigan, UNC-Chapel Hill, U.S. Naval Academy, Washington & Lee, Hamilton, Colgate, U.S. Military Academy, Boston College, William & Mary, Villanova, Oberlin, Georgia Tech, Rensselaer Polytechnic Institute, and St. Andrew's (Scotland).
Two graduating students were National Merit Finalists, seven were National Merit Commended Scholars, and one student was a U.S. Presidential Scholar. Thirty-two Saints will be competing in their sports at the collegiate level: 17 boys and 15 girls, representing 11 sports.
The Commencement speaker was George "Tucker" Foote, Class of 1998. Foote is the head of U.S. government affairs for MasterCard Worldwide, where he leads the strategy creation and execution of all domestic political and legislative activities for the company. Previously he was a senior staffer for the House Financial Services Committee. Among other recent accolades, Mr. Foote has been named by The Hill newspaper as one of the top lobbyists in the country for the past two years, and he has been featured in Washingtonian Magazine's "40 Under 40," the young lobbyists with the most influence in Washington.
He attended St. Stephen's & St. Agnes for 12 years, where he was on the lacrosse and wrestling teams, earning all-IAC and all-American status for lacrosse. He also served on the Student Development Committee and was the recipient of the school's citizenship award and several athletic awards. Foote's two sisters also graduated from SSSAS.