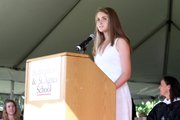 The St. Stephen's & St. Agnes School Class of 2014 was collectively accepted to more than 170 colleges and universities, including 12 Ivy League acceptances.
The class of 119 graduates participated in a June 7 graduation ceremony on the grounds of Virginia Theological Seminary.
Academic scholarships and honors include four National Merit Finalists, three National Achievement Scholars, seven National Merit Commended Scholars, and 22 seniors inducted into the Cum Laude Society. More than one-third of the class was offered college scholarships or merit aid, including a Gates Millennium Scholar, Echols Scholars at UVA, a William & Mary Scholar, a Banneker Scholar at the University of Maryland-College Park, a Sims Scholar at the University of South Carolina, a four-year Navy ROTC scholarship, and appointments to the U.S. Air Force Academy, U.S. Military Academy, and U.S. Merchant Marine Academy. Thirty-five Saints will be competing in their sports at the collegiate level, representing 13 sports.
The valedictorian was Alison Lindsay, who will be attending Washington University in St. Louis this fall and will part of the track and field team.
The Commencement speaker was Taylor Baldwin Kiland, member of the St. Agnes School Class of 1985. Kiland is an author, motivational speaker, and consultant. She has been writing books for more than 10 years, dedicating much of her professional life to the study of prisoners of war. Previously, Kiland was a strategic communications consultant supporting the Department of the Navy for the management-consulting firm Booz Allen Hamilton. Her public relations and marketing communications career began in the Navy, when she served as a public affairs officer for five years. She earned degrees from the University of Southern California and Northwestern University.
This year marked the final Commencement for Joan Holden, who is retiring as head of school after 30 years at SSSAS. Kiland was in Holden's first graduating class.