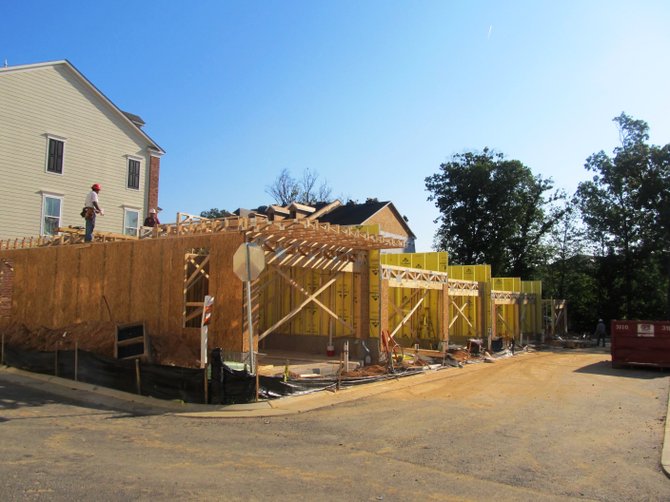 In February, Patricia Stack, a broker with Weichert Realtors, held an open house for a single-family home for sale in Vienna just listed for $739,000. Within three hours, more than 70 people toured the home.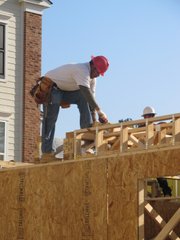 "The home went under contract substantially above list price," Stack said. "2013 has started with a bang in Northern Virginia real estate. In fact, it appears to be a market more like 2005-2006 than anything we've seen since," Stack said.
"2013 has started with a bang in Northern Virginia real estate … the market is more like 2005-2006 than anything we've seen since."—Patricia Stack.
"Buyers seem finally to be realizing that prices have bottomed out and the current combination of low prices and historically low interest rates will likely not be repeated in our lifetimes," Stack said.
Alison Sherman, an agent with Keller-Williams in McLean, is seeing the same trend. In the spring, she sold a home in Vienna in three days with multiple offers.
The 5-bedroom Colonial, built in 1976 on Ferol Drive, listed for just under $1 million, and sold $132,000 above list price.
"It's a great time to sell your home. Statistics show the average sales price is up and the average days on market are down," Sherman said.
Buoyed by low mortgage rates, low regional unemployment, growth in the number of households and rising consumer confidence, the residential real-estate market in Fairfax County and the rest of Northern Virginia has rebounded in a big way.
Unlike the last five years, demand is up and supply is down. In fact, in some particularly desirable neighborhoods, the transition from a buyer's market to a seller's market is all but complete.
Call it the new "reality in realty."
"There is an oversupply of buyers and less inventory right now in the market," said Anil Khanna, a real estate broker with Champion Homes Realty in Chantilly. "I have seen it to be a seller's market based on the number of offers I have seen with the properties that I have bid on for buyers."
Khanna added that low interest rates are beginning to rise, and that has created a sense of urgency with buyers.
According to Freddie Mac, the rate for a 30-year, conventional, fixed-rate mortgage rose to 3.54 percent in May from 3.45 percent in April.
"Many buyers are trying to purchase something this year rather than next, due to the anticipated increase in interest rates," Khanna said.
Despite some similarities to the boom period in housing nearly a decade ago, market conditions that led to the housing bust are vastly different, according to national housing experts.
"The boom period was marked by easy credit and overbuilding, but today we have tight mortgage credit and widespread shortages of homes for sale," said Gary Thomas, president of the National Association of Realtors.
"The issue now is pent-up demand and strong growth in the number of households, with buyer traffic 29 percent above a year ago," Thomas said.
Lawrence Yun, chief economist for the National Association of Realtors, said existing-home sales are at the highest level since November 2009, when the market jumped to 5.44 million as buyers took advantage of tax stimulus.
Sales have stayed above year-ago levels for 23 months, while the national median price shows 15 consecutive months of year-over-year increases.
"The housing numbers are overwhelmingly positive, especially in markets such as Northern Virginia, where employment is strong," Yun said.
"The housing numbers are overwhelmingly positive, especially in markets such as Northern Virginia, where employment is strong."—Lawrence Yun, chief economist for the National Association of Realtors.
New Construction Key Indicator of Housing Rebound
Adding to the good news about the housing market is the increasing number of infill developments and new construction, "housing starts," in Fairfax County. According to real estate economists, housing starts are one of the leading predictors of overall economic stability and growth.
A June 6 report released by Metrostudy, a national housing data and consulting firm, reports that housing starts are up sharply in Fairfax County: This year, there were 386 starts in the first quarter of 2013 compared to 143 in the in the first quarter of 2012, a 170 percent increase.
In addition to housing starts, almost every other housing indicator has trended up from May 2012 to May 2013 in Fairfax County, according to Real Estate Building Intelligence (RBI)—a company that analyzes market trends and statistics from the Multiple Listing Service.
In Fairfax County in the past year:
The total volume of homes sold jumped 32 percent, from $729 million to more than $950 million.
The average price for a home increased nearly 10 percent, from $469,000 to nearly $550,000.
Average days on market dropped a steep 30 percent from 39 days to 27 days.
New "under contracts" jumped 31.56 percent, from 450 to 592.
In the past decade, while new housing developments were being built in Prince William and Loudoun counties, Fairfax County was pretty much built out. If buyers wanted a newly-built home, they had to tear down an old one.
While land is still at a premium in Fairfax County, new infill developments have been springing up in unlikely areas such as Vienna, Oakton, Burke and the City of Fairfax.
"Demand for housing is up, and so are development applications," said Supervisor John Cook (R-Braddock), who noticed the trend last year and formed a land use development advisory committee in his district in response to the rise in applications.
"Fairfax County is pretty much 'built out' and infill projects are more challenging to execute," Cook said.
Any existing pockets of land are small, and homes are often shoehorned into tight spaces, and sometimes squeezed into existing neighborhoods. Storm water, setback, density, parking and other zoning issues become more challenging for builders.
"So, we are seeing more going on, but they are usually very difficult projects," Cook said.
Difficult, yes, but not impossible. The persistent demand for brand new housing, coupled with buyers willing to spend, has spurred high-end builders such as Pulte and Stanley Martin to create luxury townhomes and condominiums project throughout the county.
In January, Stanley Martin Homes announced the opening of 35 luxury townhomes in Oakton.
"Stanley Martin is reaffirming the old adage that in real estate it's all about 'location, location, location,' as it's tough to find a better Northern Virginia location than the charming and convenient town of Oakton," said Lauri Chastain, vice president of marketing for Stanley Martin.
Within weeks of news about the new Oakton East, there were more than 300 people on the "wait list" for the homes that range in price from $600,000 to nearly $800,000.
Targeting empty-nesters who are looking for less square footage and less yard, but larger than the typical townhome, Oakton East offers 3,700-3,800 square feet of finished living space, a two-car garage and gourmet kitchens.
The homes "look and feel like single family homes—minus the yard work," Chastain said.
"Oakton is one of the premiere areas for brand new construction. Buyers prefer new homes over resale, but they are not easy to find. Buyers prefer new homes over resale, but they are not easy to findBuyers prefer new homes over resale, but they are not easy to find," Realtor Pat Stack said.
"Buyers prefer new homes over resale, but they are not easy to find."

—Realtor Pat Stack
MetroWest in Fairfax, a Pulte development, is one of the largest luxury townhome, condominium and apartment communities in Fairfax County, with a total of 2,248 residential units slated for development on 56 acres near the Vienna/Fairfax Metro.
In addition, plans call for 300,000-plus square feet of office space and 125,000 square feet of retail, service, institutional and governmental space. MetroWest will also feature community parks, courtyards, a rec center and at least 30 percent will be preserved as green space. Sales of the $600,000 and up homes have been brisk.
While townhomes, condos and apartments are typical for infill developments—both because of their small footprint and the higher price per square foot builders can charge—there are several new single-family infill developments in the county.
Local developer John Sekas has created Oakcrest Farms, located off Hunter Mill Road near Vale Road, a development of seven high-end single-family homes selling for more than $1.5 million with at least 5,000 square feet.
The development is embedded in the original Oakcrest Farms community, which has 54 colonial-style homes built in the 1980s. Construction began last year, and already four of the seven homes are sold.
Grant Johnson, a real estate broker for Sekas, said he has seen two types of buyers for the homes, which feature gourmet kitchens, stone fireplaces and two-story family rooms, and optional media rooms.
"We have transfers, who are coming here for the high-paying tech jobs, and buyers who live in the area who want to move up," Johnson said. "This is an attractive location. The schools are great, we're near Wolf Trap and Tysons, and people like it here and don't want to leave."
Builders Are Optimistic
"Builders, I think they are as clued into the market as the rest of us. There is more confidence in the economy locally than we've seen in the past several years," said Stack.
A gauge of confidence among home builders jumped in June, hitting the highest level since 2006, according to data released June 17.
The National Association of Home Builders/Wells Fargo housing-market index rose to 52 in June—the first time the index has reached above a key reading of 50 since 2006—from 44 in May. Readings above 50 signal that builders, generally, are optimistic about sales trends.
"Builders are seeing better market conditions as demand for new homes increases," said Rick Judson, NAHB's chairman in the news release. "With the low inventory of existing homes, an increasing number of buyers are gravitating toward new homes."
That confidence doesn't surprise Gerald Gordon, president and CEO of the Fairfax County Economic Development Authority (FCEDA).
"The economic base of Fairfax County has been sufficiently diversified over the years that declining revenues in federal contracting will not be devastating to the economy as a whole," Gordon said. "Corporate additions to Fairfax County in recent years give us balance."