Father David L. Martin, newly appointed pastor of St. Luke Parish in McLean, will be celebrating the 40th Anniversary of his Ordination to Priesthood on June 30. The Most Reverend Paul S. Loverde, Bishop of Arlington, appointed Father David L. Martin as the new pastor of Saint Luke Parish (4625 parishioners) effective June 29, 2011.
Father Martin's 40 years of ministry has inspired many lives in this immediate community as he served 32 of those years at many churches within local Arlington Diocese.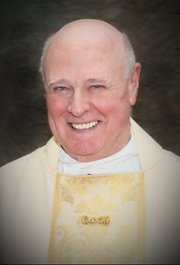 A Mass of Thanksgiving commemorating the 40th Anniversary will take place at St. Luke Church with a reception immediately following. Approximately 300 people are expected to attend to thank him for all he has given to the community. Guests to attend include his family members, fellow priests, students and parishioners.
He began thinking about being a priest at a very early age. Martin said a cousin's cousin was being ordained and he asked his mother how you would know whether to be a priest or not. She told him that when he gets older he would get a call from God. Martin said he assumed that around high school the phone would ring, it would be God asking him to be a priest. While it did not work out quite that way with a phone call, in senior year of high school, he decided to give it a try.
IN HIS CAREER he presided over:
Baptisms—500-plus

First Communions—600-plus

Reconciliation/Confessions—900-1000

Marriages—400-plus
He has many memorable experiences over his 40 years. He recalls one in particular: <"I would say the major experience was a 30-day Ignatian Retreat in 1978. The most challenging was going to the Espousal Retreat House in 1978 to work doing Confirmation Retreats for teenagers. I had a trepidation about working with teenagers and didn't think I would be that great. It turned out to be a wonderful experience. One of my most cherished experience occurred in my first assignment at All Saints in Manassas (1973-1977) when a group of ministers and I did a brown bag lunch every week for three years. It was an extremely rewarding experience as our conversations were very open. My most rewarding experience was to merge St. John's Church in Orange, Va. (1995-2003) and St. Mark's in Gordonsville to build St. Isidore the Farmer Church."
FATHER DAVID L. MARTIN was born May 10, 1945, in Pittsfield, Mass., the son of Edward and Frieda Martin. After graduating from St. Joseph's Catholic Central in Pittsfield, he entered the Stigmatine novitiate. He received a bachelor's in philosophy from Catholic University in Washington, D.C., in 1969 and returned to Massachusetts to study for his master's in divinity at St. John's Seminary in Brighton. He was ordained a Stigmatine priest in 1973. Father Martin was assigned to All Saints Parish in Manassas where he served until 1977, when he was reassigned to Sacred Heart of Jesus Parish in Milford, Mass. Father Martin was assigned to the Espousal Conference Center in Waltham, Mass., in 1978, where he served as community superior and director of the youth and divorced/separated/widows and widowers program. He served as Stigmatine novice director and professed students director at St. Joseph's College Seminary, Mountain View, Calif., 1981-85.
During his time in California, Father Martin received his master's degree in counseling from Santa Clara University and applied spirituality from the University of San Francisco. Father Martin was incardinated into the Arlington Diocese Feb. 15, 1991. His diocesan assignments have included: St. Mary Parish, Fredericksburg, 1987-88; St. John the Evangelist, Warrenton, 1988-89; St. Anthony of Padua, Falls Church, 1989-93; Church of the Nativity, Burke, 1993-95; St. John Parish, Orange, from 1995 until the parish combined with St. Mark in Gordonsville in 2002 to form St. Isidore the Farmer Parish. Father Martin was appointed administrator of St. Jude Mission in 2003 when it was established. He was made pastor when the mission was elevated to a parish in 2007. Father Martin was made pastor of St. Luke in 2011.