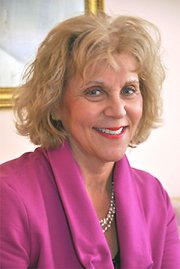 Alexandria — After five and half years, I will be leaving my position as executive director of Senior Services of Alexandria at the end of this month. It has been my sincere pleasure and a true honor to serve in this capacity.
I believe strongly in the organization's mission which is "to foster independence and self-sufficiency, enabling seniors within the City of Alexandria to age with dignity." I believe together with our dedicated staff, board of directors, incredible volunteers and loyal donors, we are providing necessary services to enrich the lives of seniors in the City of Alexandria.
I am proud of the way that SSA has grown in the past five years, including expanding Meals on Wheels delivery to seven days a week plus holidays. We have established a very popular Speaker Series for seniors, their family members and caregivers. Just this past year, we launched the Friendly Visitor Program that helps allay senior isolation. The Senior Resource Center answers questions, make referrals and conducts outreach activities across the city — just check out the senior corner the next time you are at your local library. Also, SSA's annual gala is one of the "best parties" in the city honoring generations of Alexandrians with over 350 attendees, a great silent auction and lots of dancing and fun.
I will be forever grateful to the Alexandria community for your support and generosity to SSA. I hope that you will continue to remember this great organization with your time and financial resources.
I know that our 46-year-old organization will continue to thrive for another 46 years and more. Mary Lee Anderson and Donna Walker James will be the primary contacts. You can reach them at 703-836-4414.
SSA will always have a special place in my heart as will our loyal Gazette Packet readers. Thanks for the memories!