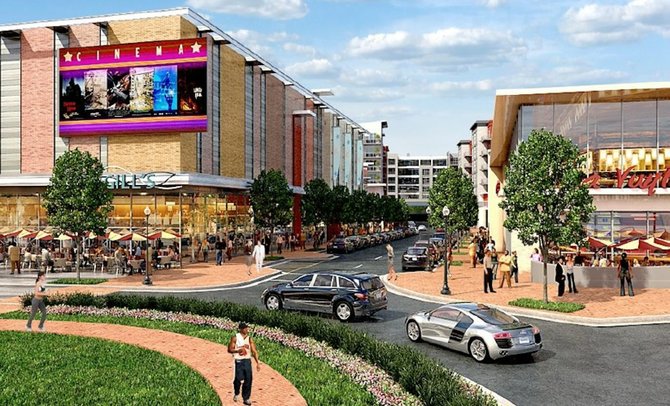 When West End resident Daniel Daughtry's watch broke, he did the same thing people across the country do — he headed for the local mall. Parking was no problem because the mall has a huge lot with row after row of unused spaces. But when Daughtry walked into the main entrance for his first visit to Landmark Mall, he discovered an ailing patient. The down-on-its heels shopping mall has more closed stores than open ones. People are few and far between.
"It's pretty dead, pretty lame, in here," said Daughtry, who recently moved to Alexandria. "And it's strange to see all these closed up stores."
When it opened in 1965, Landmark Mall was the first retail center in the region to feature three anchor department stores: Sears and Roebuck; the Hecht Company, now Macy's; and Woodward & Lothrop, later J.C. Penney, then Lord & Taylor. The ribbon cutting happened on a sweltering August day and featured Alexandria Vice Mayor Nicholas Colassanto and Lt. Gov. Mills Godwin, who was in the midst of his first campaign for governor.
"A Glad Day At Landmark," announced the headline on the front page of the Alexandria Gazette the next day.
For many years, the mall was a thriving place. Stores included Bond Clothes, Casual Corner, People's Drug Store, Raleigh Haberdasher, Thom McAn Shoes and Waldenbooks. In 1990, it was enclosed to be an indoor mall. Since that time, though the mall has fallen into a slump mirroring the national trend away from enclosed shopping malls. Store after store closed, and then the mall lost a major anchor when Lord & Taylor shut its doors.
"The only people who come here are foreigners," said Arjay Armani, who works at a kiosk known as MyPhoneFix, a kiosk inside the mall. "So that's why you see a lot of mom and pop stores."
ALL THAT IS ABOUT to change. Earlier this month, the Alexandria City Council approved a plan to redevelop the struggling mall. The 11-acre site will be transformed into an open-air, mixed-use community with retail, residential and entertainment components. The idea is to create a kind of urban village that has now replaced shopping malls as destination centers across the country. Although city leaders are excited about the prospect, the businesses that are still in operation at the struggling mall view the situation from a different perspective.
"I'm disappointed," said Laurie Noufal, who has owned a hair salon in the mall for more than 20 years. "Yes, we want to see development. Yes, we want to see the city of Alexandria do much better and look much better. But it's a challenge to us."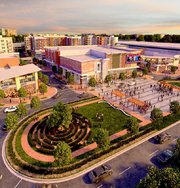 Noufal was here when the mall converted from a strip mall to an enclosed structure. In those days, the parking lot was full, and the storefronts were all occupied. And even though most of the mall is a ghost town, Noufal has loyal customers who make regular visits to the mall. Unlike many of the other stores that rely on foot traffic, she has customers who will come to Landmark just to visit her salon. And parking is never a problem.
"They say they are going to take it down by June," she said. "So we have to be out by next June. We don't have much time."
REDEVELOPMENT AT LANDMARK has been on the agenda of city leaders for more than a decade. Back in 2004, General Growth Properties had plants to redevelop the mall. The city responded by creating an advisory group that eventually led to the Landmark/Van Dorn Corridor Plan, which recommended that the site have tall buildings, a mixture of commercial and residential uses, a more pedestrian friendly circulation pattern, and a transit hub.
Then the bottom fell out.
When the global financial meltdown happened in 2008, General Growth Properties went belly up. By April 2009, the business was in bankruptcy and plans for redevelopment were shelved — at least for the moment. In the reorganization of assets owned by General Growth, ownership of the mall was transferred to a spin-off company known as the Howard Hughes Corporation, a Dallas-based developer founded by the famous and reclusive aviator.
"Our vision is to breathe new life into Landmark and the surrounding area," said John Simon, executive vice president of strategic planning for the Howard Hughes Corporation.
The 750,000-square-foot redevelopment of Landmark will include 285,000 square feet of retail, 400 residential units and an upscale dining movie theater. Sears and Macy's will continue to anchor the property, a fact that slowed the planning process because the two anchor retailers own the land where their stores are located. So the redevelopment will demolish only the existing retail space located between Sears and Macy's, replacing it with residential and retail uses in an open air design. A new street grid will be constructed, and city transportation officials are planning a transit center that will accommodate bus-rapid transit for two separate corridors.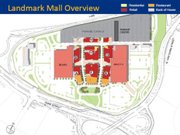 "We all understand the challenges you had to work with and the developers had to work with because of some less-than-cooperative property owners," Councilman Paul Smedberg told city transportation officials during the public hearing. "So it created a lot of challenges."
AS PART OF THE DEAL, the Howard Hughes Corporation will contribute $4.5 million to local causes and projects in Alexandria. Investments include $500,000 for the Landmark Transit Center, $500,000 in pedestrian and bicycle paths, $200,000 in public art projects, $1 million bus-rapid transit and pedestrian access, $150,000 in aesthetic improvements to the Landmark flyover ramp and $2 million into the city's affordable housing fund.
"This project will be the economic engine to bring vitality to this major retail center and the surrounding neighborhoods, which is long overdue," said Alexandria Mayor Bill Euille.