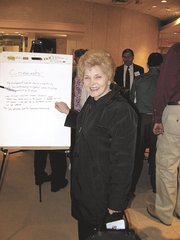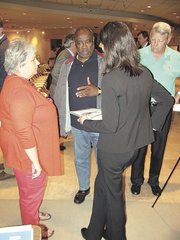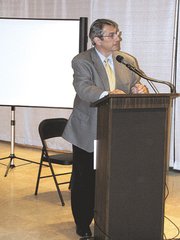 The old adage, "The more things change, the more they stay the same," was on public display Wednesday night, May 1, at Landmark Mall when the latest iteration of a proposed revitalization was submitted to public scrutiny and comment. Even the public comments, written and spoken, echoed past sentiments.
In spring of 2004 Mayor William D. Euille announced the possibility of a major "renaissance of the West End" during a press conference in the mall's center court. "My campaign slogan was One Alexandria," Euille said at the time as he touted the mall's revitalization as a major pillar of that slogan.
At that same meeting, Maura Feaheny of General Growth Properties, owners of the mall at that time, said, "Although our plans are still very fluid, we hope to get underway by 2007 with completion by 2009." Instead General Growth hit turbulent financial waters and their vision was consumed by the down spiral of that fiscal whirlpool.
Four years later, Alexandria's new Planning and Zoning Director Faroll Hamer expressed renewed optimism about the rebirth of Landmark Mall. "I see this plan as a new opportunity. This is an opportunity to do something better. This is a chance to take something already built and make it better," she said at yet another public meeting concerning the mall's resuscitation.
Now, five and one half years later, the city and Howard Hughes Corporation, the new owners of the mall, have unveiled another plan for the mall's future. It again calls for a combination of retail, commercial and residential development that would transform the existing enclosed mall into an open air urbanized venue bookended by Sears and Macy's.
"Both Sears and Macy's have agreed to allow Hughes to submit their proposal to the city and move ahead with their plan," said Gwen Wright, division chief, Alexandria Department of Planning and Zoning. "This is a major change from the past," she said.
Those plans will go before the city Planning Commission and then City Council in June, according to Wright.
Her explanation that Sears and Macy's have agreed to allow Hughes Corporation to move ahead is a vital element of the planning/development process. Both Sears and Macy's own the land on which they are situated. The only portion of the site controlled by Hughes is the center section of the mall and all three owners must be in concurrence with any proposed plans.
Wright emphasized that fact and noted that this was a major shift in previous revitalization efforts.
But, this multiple ownership is not uncommon in the world of shopping centers, said John Simon, executive vice president, Howard Hughes Corporation, during his presentation to the audience assembled at the mall for the Community Meeting. "Many regional shopping centers are not under single ownership," he said.
"We as developers can only control the middle portion of Landmark. But, the three of us have agreed that none of us can do anything unless all three of us agree on the plans," he said.
As with any business agreement between various entities there are also a myriad details and quid pro quos to be satisfied as Simon noted. "We are now trying to finalize our business agreements (with Sears and Macy's)," he said.
He explained that HH Corp. had considered two different plans for the mall. One included residential development on the north side and the other did not. It was the former that was highlighted during the hour-long plan viewing period Wednesday night that sought citizen comments, written and verbal, prior to the corporate and city presentations.
THE OVERALL DESIGN plan calls for two streets to flow through the center mall area lined by retail and restaurant establishments. There would also be an 800-seat theater/restaurant complex that would allow matrons to enjoy a full dinner and drinks while viewing movies.
The two one-way streets, one in and one out, would provide access to a parking garage at the end opposite Duke Street. That area would also encompass a variety of residential buildings. There would be a round-about on the Duke street side of the complex, according to Simon's presentation.
"We are talking to three different theater operators and several residential developers who are interested in the project," Simon said. He also noted that the present entrances to Van Dorn and Duke streets will not change.
Simon was quick to quash any speculation that this was a done deal or that it was on the immediate horizon. "I don't want to indicate this will all happen in the next year or two. Hopefully we will be able to begin demolition in the spring of 2014 and open a portion in the spring of 2015," he said.
In response to several questions concerning plans for transportation initiatives pertaining to the mall development, Wright said that "no contributions to transportation needs have been discussed at this time."
However, she added, "It is anticipated that when the overall development takes place then such transportation contributions will be discussed."