Bernadette Geyer of Vienna was selected for the 2012 Hilary Tham Capital Collection for her poetry manuscript, The Scabbard of Her Throat. The Tham Collection showcases outstanding poetry of writers in the greater Washington, D.C., area and beyond.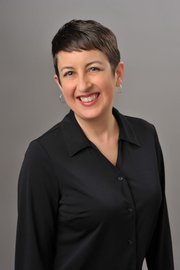 Geyer's "The Scabbard of Her Throat" is being published by The Word Works. Word Works, founded in 1974, is a nonprofit literary and educational organization that publishes contemporary poetry in collector's editions and presents public programs.
"The Scabbard of Her Throat" will be officially launched in conjunction with the upcoming Book Fair at the Association of Writers & Writing Programs Convention in Boston, Mass. Geyer will have a book signing and a special reading on Friday, March 8, 2013 during the convention. She will also be appearing at Iota Club and Cafe, 2832 Wilson Blvd., Arlington, this coming Mother's Day for a reading of her poetry. Her poetry has appeared in North American Review, The Midwest Quarterly, Verse Daily, and elsewhere.
Geyer is a 2010 Strauss Fellowship recipient from the Arts Council of Fairfax County. Geyer works as a copy editor in the Washington, D.C., area.