Ashley Mehra, a McLean resident who is studying classics and ancient languages at the National Cathedral School for Girls in Washington, D.C., reflects on one of the key identifying features of the Roman Empire—namely, mosaic art. Mehra's first inspiration for a mosaic came from her desire to preserve our environment. Mehra's art piece was designed with a linear border around the central element which was a fish.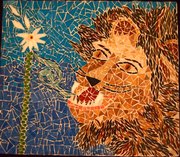 By shaping small, cubic pieces of glazed stone known as tesserae, choosing colors like a painter, and weaving patterns like a fabric artist, the artistic mosaic expression was set on an MDF board using special epoxy. Mehra's efforts were recognized by both the National and
Virginia Junior Classical League Conventions where her art work earned third place in the Mosaic Graphic Arts category competitions.
Inspired by its beauty, Mehra advanced to the more modern use of glass in the creation of her second mosaic art project. The lion was to the Greeks and the Romans a symbol of vigilance, nobility and power. In an effort to highlight this symbol, Mehra set out to create a lion. In lieu of tesserae, Mehra's inspiration was constructed using glass. Her mosaic, titled "The Lion and the Flower" earned the regional Gold Key Scholastic Art Award. Mehra's mosaic was one of three Ceramics & Glass entries in the Southeast Region that qualify for entry into National Judging. In New York City, panels of renowned artists and art educators will select work for national recognition based on originality, technique and emergence of a personal vision.