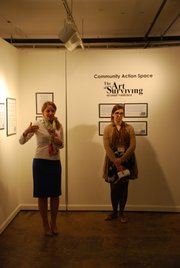 For some visitors exploring the Vulcan gallery last weekend during the Second Saturday Art Walk at the Workhouse Art Center in Lorton, happening upon deeply emotional and traumatic pieces created by rape and domestic abuse victims was a bit alarming.
For others who came for the exhibition in particular, it was informative and perspective-building. Regardless, the traveling showcase of mixed media, entitled "The Art of Surviving," dramatically raised awareness of the existence of and recovery from many forms of sexual violence.
Saturday night in the somewhat industrial gallery confines was a reception for the exhibition, which runs until April 7. The evening included refreshments and remarks from Negar Ehsani and Heather Sarmiento, specialists with the Fairfax County Office for Women & Domestic and Sexual Violence Services. The Workhouse collaborated with their organization to bring the project—sponsored by the Virginia Sexual & Domestic Violence Action Alliance—to Northern Virginia.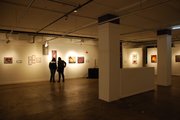 The powerful and sometimes unsettling artworks range from sculpture and painting to prose and poetry, with contributors aged 19 through 75. Each piece is displayed with a detailed placard containing information on the artist or poet and a comprehensive, often deeply revealing explanation from the creator.
No two stories were the same—some works immediately followed a traumatic episode, some weren't created until decades after the fact—but in each case, the artistic process served as a coping mechanism.
There is clearly visible and legible anger, helplessness and fragmentation; the vivid colors and words convey visceral emotion and are obviously the manifestation of a long and highly painful process. But the constant reminder is that these people are indeed survivors and have channeled their experience through a creative outlet.
The colors are bold, the words biting, and while dramatic, they're decidedly vibrant, full of life. Just like their creators.
"The Art of Surviving" runs until Sunday, April 7, at the Workhouse Arts Center Vulcan Gallery, 9601 Ox Road, Lorton, www.workhousearts.org.
More like this story