On Sunday, Feb. 17, 2013, Springfield Post 176 conducted an American Legion Memorial Service for WWII veteran Chaplain Emeritus John Stanley Bednarek Jr., 84, who died on Feb. 12, 2013.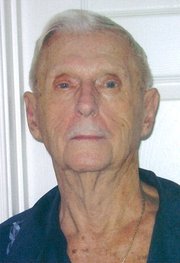 He was born Nov. 3, 1928 to John Bednarek and Francis Catherine Bednarek in Wilkes Barre, Pa., and was the oldest of three children. He attended Nanticoke Jr. High School until June 1944 and joined the U.S. Army in 1946. He met his wife Antoinette Marie Gioia in his hometown and they married in Bronx, N.Y., on June 6, 1952, were married for 49 years and had five children. He retired from service after serving his country for over 20 years and also retired from the U.S. Postal Service.
Bednarek joined The American Legion after he retired from the military and was a member of Springfield Post 176 for 47 years. In 1984, Comrade Bednarek was asked to be the post chaplain and served in that position for 12 years. In 1995, Chaplain Bednarek was awarded to the position of chaplain emeritus by Commander Terry Johnson for his hard work and dedication to the American Legion chaplain position and support of his post and comrades. In 2001, Chaplain Emeritus Bednarek received the American Legion Post 176 Special Service Award for the Good of the Legion. He was also a member of La Societe des Quarante Hommes et Huit Chevaux.
The memorial service was marked by attendance from all of the American Legion families and was led by Post Commander David Wallace.
"This moment is sacred with the almost visible presence of the one who has gone before. We come to honor the memory of John Bednarek who offered life and service for God and country; who has now enrolled in that great spirit army whose footfalls cause no sound," said Commander Wallace. He was honored by poems such as "Veterans Retreat" by Robert J. Murrin, and a fitting eulogy along with fond remarks from several legionnaires.
"Farewell to a WWII and retired Army veteran who spent a lifetime of service devoted to helping veterans," said Post Chaplain Charles Buettner.
An American Flag was flown over Springfield Post 176 and was presented to his daughter, Cathy Blumberg. "This ceremony was exactly what my dad would have wanted," she said, "his family was the American Legion and he lived for his legion family."
Chaplain Emeritus Bednarek is survived by his two daughters Joanne Rhees and Cathy Blumberg, and his one son John. He also has two grandchildren and one great grandchild.