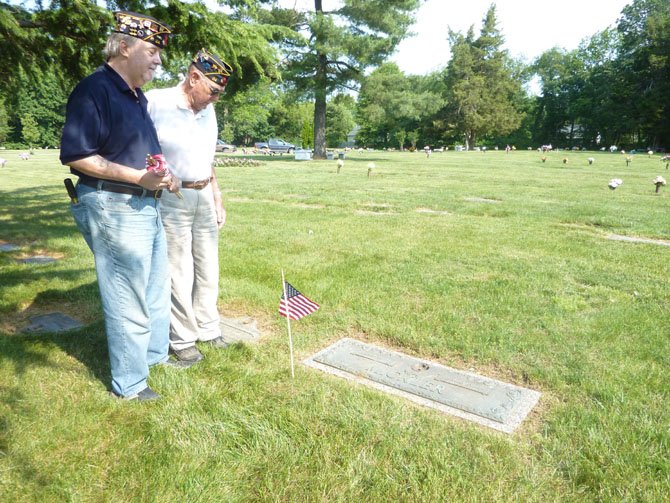 Mount Vernon — He moves throughout the cemetery, stopping to pause and remember the men he has come to see before placing a flag at their grave and moving on to the next. For World War II veteran Warden Foley, this Memorial Day ritual began nearly half a century ago as a labor of love and respect for his fellow veterans.
"I just always felt they should be honored in some way," said Foley, who travels to area cemeteries in the days leading up to Memorial Day to place flags at the graves of his fellow American Legion Post 24 commanders. "I've never kept track of the graves I visit each year. I just know where they are because I was a pallbearer at their funerals."
According to Vietnam veteran Jim Glassman, Foley has been quietly following his routine for more than 40 years now.
"No one has kept records and Warden has always been very private about doing this," said Glassman, who has been assisting Foley in his memorial tribute to fellow Legionnaires for the last 10 years. "But it's likely been more than 40 years now and he visits more than 75 graves over the course of the days leading up to Memorial Day."
Foley and Glassman made stops at Ivy Hill Cemetery, Arlington National Cemetery and Mount Comfort Cemetery, where three former commanders are buried and a final flag was placed at the grave of Thomas Mickler on May 27.
"I can't remember when he died," Foley said, noting that the headstone was never inscribed with the date of his death. "The last of the men will be honored at Alexandria National Cemetery on Monday."
At 91 years old, Foley has yet to slow down but admits that perhaps he needs to record the names and location of the grave sites so that others can carry on when he is no longer able.
"I've never used a map or written anything down," Foley said. "But I suppose it's time since I hope others will continue when I am gone. These men need to be honored and their service to our country and the American Legion never forgotten."