History is on the move in Virginia as the Civil War 150 HistoryMobile rolls into Vienna for a one day visit on Saturday, April 6. The exhibit, an initiative of the Virginia Sesquicentennial of the American Civil War Commission, will be located across from the Freeman Store and Museum, 131 Church St. N.E., and will be open from 10 a.m. to 5 p.m. Admission to the HistoryMobile is free.
The expandable 53-foot tractor-trailer uses immersive spaces and interactive exhibits to draw together stories of the Civil War and Emancipation from the viewpoints of those who experienced it across Virginia—young and old, enslaved and free, soldiers and civilians.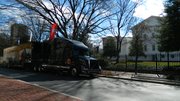 Visitors will encounter history in ways they may have never experienced before. The HistoryMobile exhibit is divided into four sections: Battlefront, Homefront, Journey to Freedom and Loss-Gain-Legacy. From the bewildering sense of chaos experienced by soldiers, to the last letter written by a dying son to his father after sustaining a mortal wound, to a hushed conversation between a husband and wife considering the great risks and rewards of fleeing to freedom, the HistoryMobile presents the stories of real people in Virginia whose lives were shaped by the historic events of the 1860s, and invites visitors to imagine, "What Would You Do?"
The Civil War 150 HistoryMobile crosses the state visiting museums, schools and special events. Its four-year tour began in July 2011, and since then it has made over 70 stops and attracted visitors from every state and a number of other countries. It will continue to tour through spring 2015.
In addition to learning more about Virginia's history, the HistoryMobile also provides visitors with tourism information about the many historic sites and destinations that they can explore today. Interactive maps and touch-screen kiosks located at the HistoryMobile allow visitors to easily plan their next trip.
The HistoryMobile represents an extraordinary cooperative partnership among public agencies and private/nonprofit organizations. Working with the Virginia Sesquicentennial of the American Civil War Commission to manage the tour are the Virginia Tourism Corporation and the Virginia Department of Motor Vehicles. HistoryMobile exhibits were designed in partnership with the commission, Virginia Historical Society, and the Fredericksburg/Spotsylvania National Military Park.
More information on the Civil War 150 HistoryMobile and the initiatives of the Virginia Sesquicentennial of the American Civil War Commission can be found at www.VirginiaCivilWar.org. For information on visiting Civil War sites throughout Virginia go to www.Virginia.org/CivilWar.
This event is presented as part of the Freeman Store and Museum celebration of its designation on the National Register of Historic Places. The HistoryMobile event will also include children's activities, an art display, tours of the Freeman Store and Museum, "Roads to Rails to Trails" museum exhibit, dedication ceremony and reception.