The Council for the Arts of Herndon gave this year's awards celebrating women in the arts to Town Council member Grace Wolf, immediate past president of the CAH, Karen Cobb, past executive director of the CAH, and Robin Carroll, immediate past president of the Herndon Foundation for the Cultural Arts.
The awards were given at the Afternoon Tea held on March 9 from 2-4 p.m. at 873 Grace St., hosted by the Herndon Woman's Club and co-sponsored by the CAH and the Fortnightly Club.
Ann Rust, commissioner for the Virginia Commission for the Arts, spoke about the unique contributions of each woman to Herndon and the arts, as well as the wealth of arts organizations and activities in the town of Herndon. Friday Night Live, the Elden Street Players, the Classical Ballet Theatre, ArtSpace, the Herndon Town Square Singers and many other arts activities, organizations and businesses make up the community, and as Rust pointed out, there's always art happening in Herndon.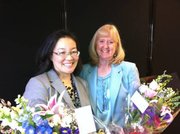 Grace Han Wolf, the first Korean-American woman elected to office in the Commonwealth of Virginia, has been president of the Council of the Arts of Herndon since 2004. She has made contribution in many areas, from increasing art funding from external sources and initiating supplemental arts programming for elementary school students, to partnering with SAIC on a digital art competition called "Technology and the Arts" that started in Herndon High School and has extended to Fairfax County and beyond.
The most recent evidence of Wolf's contributions to the town include the outdoor murals painted on historic buildings in the downtown and Herndon Community Center ceramics murals commissioned and donated by the Council for the Arts of Herndon.
Karen Cobb served for eight years as the executive director of the Council for the Arts of Herndon. When she moved to Rappaport Companies, where she served as director of marketing, her ideas from the council continued to inspire her work in commercial real estate. Worldgate Centre's vibrant children's activities draw a crowd every time, and for many years the Taste of the Town at Worldgate was one of the signature events of Herndon. 
Robin Carroll was celebrated at the Afternoon Tea for her work making things happen in Herndon. From 2008 until late 2012, she implemented the artistic vision for ArtSpace Herndon, was responsible for daily operations, and managed the transition to part-time paid staff. Robin currently serves on the Visual Arts Programming Committee, is a member of the executive committee, and assists with grant writing. 
Also in attendance at this event were Dranesville Supervisor John Foust, Delegate Thomas Davis Rust and Town Council Members Sheila Olem and Grace Han Wolf.