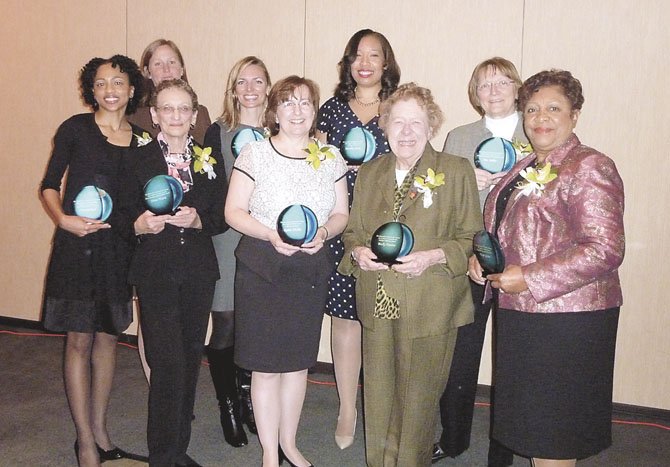 Photo Gallery
Women 2013 Awards Dinner
Click Photo for Flash
Alexandria — The Alexandria Commission for Women held its 33rd annual Salute to Women Awards March 18 in a ceremony that honored 11 individuals who have made outstanding contributions to the community.
"It is because of the Commission for Women that Alexandria is consistently named as one of the best cities for women," said Nina Tisara as she accepted the Donna Bergheim Cultural Affairs award. "And it is because of my family that I am here tonight for they have always been the stars that I navigated by."
Held at the Carlyle Westin Hotel, this year's awardees included Erika Kleiner (Women's Health and Safety Advocate award), Faye Gunn and Becky Davies (Making a Difference award), Brooke Curran and Monika Jones (Rising Star award), Karyn Moran (Youth Community Services award), Elizabeth Todd (Leadership in Business award), Monica Reid (Marian Van Landingham Legislation and Public Policy award), Robin Wallin (Vola Lawson award) and Pat Miller (Susan Lowell Butler Lifetime Achievement award).
Former City Manager Vola Lawson presented the award that bears her name to Wallin, who echoed the sentiments of many of the recipients.
"This is such an honor," Wallin said. "It's amazing to receive an award for doing something that brings me so much joy."
For more information on the Commission for Women, call 571-882-1368 or visit www.alexandriava.gov.