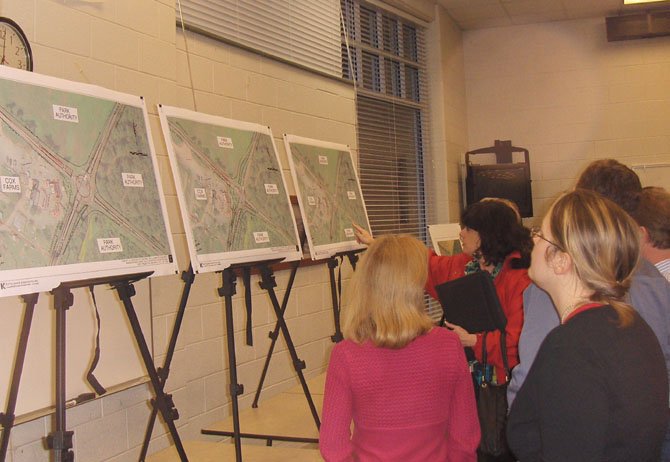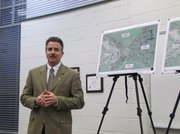 Centreville — Pretty much everyone agrees that the intersection of Braddock and Pleasant Valley roads in Centreville is a pain. It's tiny and congested, with especially long waits for drivers during rush hours.
Now the Virginia Department of Transportation wants to fix that intersection, but whether it should build a roundabout there or install a traffic signal is a matter of heated debate among area residents. And some don't want that spot improved, at all, for fear of opening the floodgates to Loudoun County traffic that would then travel through Virginia Run.
During a meeting Monday night, March 18, in the Sully District Governmental Center, a VDOT administrator and a traffic consultant explained three proposals on the table. They also got an earful from several of the nearly 60 people attending. And in the midst of it all, Supervisor Michael R. Frey (R-Sully) tried to bring some perspective to the procedure.
"This isn't just about South Riding and Virginia Run residents," he said. "It affects everyone in western Fairfax County. When you're sitting in traffic and it takes you 25 minutes to get through that intersection, it doesn't matter where the car ahead of you started from — it's there on the road."
Actually, said Frey, the subject came up eight years ago and "there was strong support for a traffic circle. But after spending $1 million to $2 million, that intersection would still have design issues plus space, parkland and drainage problems. And pretty soon, the cost was $5 million to $6 million and we didn't have the money."
Both Braddock and Pleasant Valley are secondary roads, and there's no money for them in VDOT's budget for the next six years. But last summer, Loudoun County started things moving again by approving $1.2 million of its own money, matched by the same amount from VDOT's Revenue Sharing Program — plus $600,000 from the Commonwealth Transportation Board — to fix the intersection.
On Monday, Bill Cutler, assistant district administrator for VDOT's Northern District, and Chris Tiesler, an engineer with Kittelson & Associates in Reston, discussed the three plans under consideration. But first, Cutler detailed the physical constraints.
Surrounding that intersection near the Fairfax/Loudoun border are Cox Farms and Fairfax County Park Authority land with wetlands on it. There's poor drainage and some rare plant life, as well as utility poles that would cost about $80,000 each to relocate. And Cox Farms is in an agricultural/forestall district, so VDOT doesn't want to impact it.
As for the proposals, Concept 1 centers the roundabout in the intersection, but would require a slip ramp and more right-of-way than the other plans. Concept 2 moves the roundabout slightly west, affecting Cox Farms and the parkland more. It avoids the rare plants, but not the utility poles. Concept 3 involves a traffic signal and left and right turn lanes.
"We want as small an impact as possible," said Cutler. "But we want to improve this intersection in a meaningful way."
Agreeing, Tiesler asked, "Where do we put the whammy? Finding that sweet spot is what we want to do. In the roundabout plans, there's a separate bypass lane coming up from Pleasant Valley — especially in the morning when eastbound traffic is heaviest. And it would accommodate westbound traffic in the evening."
He noted that the roundabouts have 100 feet of right-of-way outside them. But they don't entail all the widening required, with a traffic signal, to extend the turn lanes several hundred feet beyond the intersection. So, he said, "That's one key tradeoff."