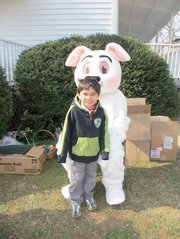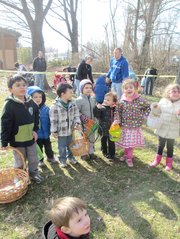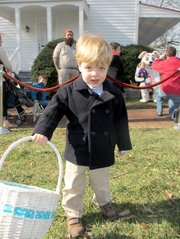 Even nippy morning air did not deter hundreds of Vienna children from participating in the Town of Vienna's annual Easter Egg Hunt and Roll on the lawn behind Freeman House on March 23.
So the children wore winter jackets and hats… it was sunny and they enjoyed rushing for candy-filled plastic eggs, decorating real hard-cooked eggs and posing with the Easter bunny.
It took dozens of volunteers and staff, 2,000 plastic eggs filled with candy and novelties, and 20 dozen hard-cooked eggs to pull off the event.
The egg hunt is sponsored by the Town of Vienna Department of Parks and Recreation, in cooperation with Historic Vienna, Inc. Children were divided into two groups: 2- and 3-year-olds and 4- and 5-year-olds. Parents were welcome to help the youngest ones collect eggs after the 10-to-one countdown.