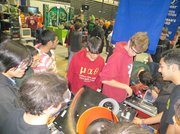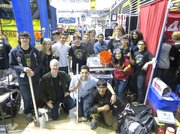 It's March Madness and the Langley High School Robotics Team, in keeping with the season, made it to the "Elite Eight" in a national competition. Langley's team finished 12th out of 65 teams overall and was drafted as a member of one of the top eight teams to participate in the final round of the competition.
This year's First Robotics Virginia Regional competition, held at Virginia Commonwealth University's (VCU) Siegel Center in Richmond, drew 65 high schools from New York to South Carolina.
The team advisor is LHS physics teacher Bob Foley.
This year's First Robotics competition required robots to shoot Frisbees into rectangular holes—similar to making freethrows and 3-point shots; dodge other robots whose sole purpose is to drive you back; and climb three rungs on a jungle gym—analogous to climbing Mt. Everest with only your arms. It sounds simple, which is the reason why you need to see it to appreciate the creativity that goes into each of the robots.
Langley High School Robotics team will compete at the upcoming Washington D.C. Regional Competition on March 29-30 at the DC Convention Center. For more information, go to: http://www.dc-first.org/dc-regional.