Photo Gallery
Living Legends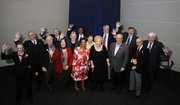 Click Photo for Flash
Alexandria — The 6th Annual Meet the Legends reception was held March 21 at the U.S. Patent and Trade Office where more than 250 people gathered to celebrate the 2013 Living Legends of Alexandria.
"The history of America is written in communities by individuals and the decisions they make every day," said U.S. Rep. Jim Moran (D-8). "Our nation is shaped by people who choose to spend their lives in public service, not in self service. In this community, it is by the people that Living Legends honors."
A lighthearted moment occurred when the video presentation on the background of this year's Legends lost sound during honoree David Marin's vignette and emcee John Porter quickly quipped, "You don't often see David Martin speechless."
"It will take more than that to silence me," joked Martin, a jeweler who was honored for his continuing efforts to bring recognition and visibility to the businesses along upper King Street. "If anyone wants to hear what they missed, they can stop by Goldworks and I am happy to fill them in."
Founded by photographer Nina Tisara, the Living Legends of Alexandria honors citizens who have made extraordinary contributions to the quality of life in the city.
The 2013 Legends include Willie F. Bailey Sr., Kathryn A. Brown and Marlin G. Lord, Rosa E. Byrd, Elizabeth Chimento and Poul Martin Hertel, Joe Guiffre, Thomas Young "Jay" Johnson Jr., David M. Martin, Richard E. Merritt, Joann E. Miller, Lonnie C. Rich, William "Bill" Rivers an Lewis A. Stearman.
For more information, visit www.alexandriaLegends.com.