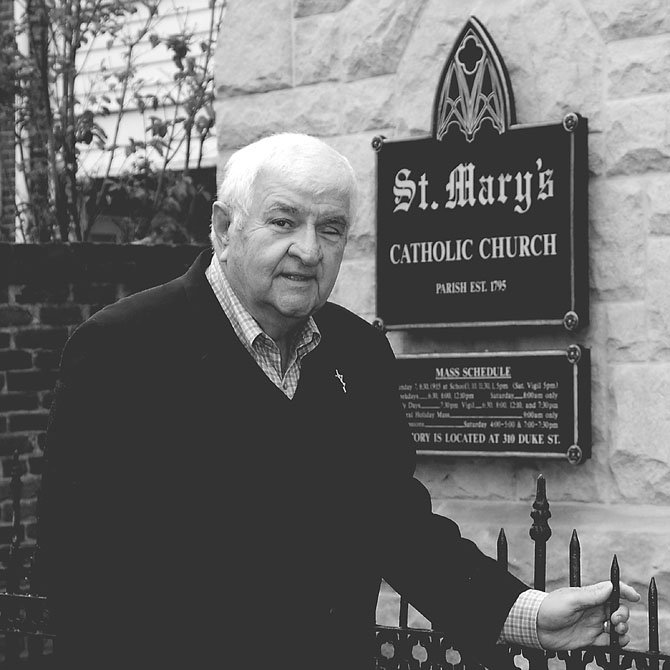 Living Legends: The Project
Living Legends of Alexandria is an ongoing 501(c)(3) photo-documentary project to identify, honor and chronicle the people making current history in Alexandria. The project was conceived in 2006 to create an enduring artistic record of the people whose vision and dedication make a positive, tangible difference to the quality of life in Alexandria.
Platinum and Gold sponsors this year are the Alexandria Commission for the Arts; Club Managers Association of America; Goodwin House, Inc.; McLaughlin Ryder Investments; Renner & Company, CPA, P.C.; the Rotary Club of Alexandria; and SunTrust Bank.
This is one of a series of profiles that will appear this year. For information, to volunteer, become a sponsor or nominate a future Legend, visit www.AlexandriaLeg... or contact Legends@Alexandri... .
For more than six decades Joe Guiffre has been involved in the business, civic and religious life of his community. That's why he is a 2013 Living Legend of Alexandria.
Guiffre still calls Alexandria home but he chooses to spend winters in Florida. "I'm not nearly as involved in activities in Alexandria as I used to be," Guiffre said, speaking by telephone from there. "I'm nearly 80, so I am slowing down. Right now I am sitting with my back to the Gulf of Mexico and sun shining over my shoulder. I am enjoying spending time with my wife, having family visit in Florida and just taking it easy."
Everyone who knows him acknowledges that Guiffre's relaxation is well-deserved. "If you live and work in a community, it is your responsibility to take an active role in the life of that community," he said. "I did as much as I could for many years and I sacrificed a lot of family time. I regret that to some extent, and now I'm enjoying the time I have with my wife, my children and my grandchildren. I'm still involved, and Alexandria is still home."
"I will be back, though. Bishop Loverde has approved the formation of a new foundation for the Catholic Diocese of Arlington and I have agreed to chair that foundation. A major feature is that it serves as an 'umbrella' for donor-advised funds," Guiffre said.
Born in Brooklyn, N.Y., on June 18, 1933, Guiffre moved to the Washington area in 1946. During high school and college he worked in the family business, the Guiffre Distributing Company, which was located on North Henry Street in Alexandria.
"Like every small, family-owned business, I started at the bottom for very little pay and worked my way up," Guiffre said. "I cleaned offices and bathrooms and unloaded box cars. My father wanted me to have a very clear understanding of every aspect of the company before I assumed any supervisory role and I did."
GUIFFRE EARNED a bachelor's degree in English from Georgetown University. In 1954 he married Ann McWilliams of Alexandria. They have four children: Teresa, Julie, Michael and Susan. In 1957 Guiffre accepted a full-time job with his family's company. He became president and general manager of that business just six years later in 1963.
"My father died very young and there was no one else to run the business," Guiffre said.
The Guiffres lived in Falls Church until 1965. "One day my wife and I were talking about how nice it would be to live in Alexandria near where I worked," Guiffre said. "There wasn't much traffic between Alexandria and Falls Church at that time. But when we moved to our house on Russell Road I was four minutes from my office. That was even better."
Over the years Guiffre has served as an appointed member of several state and local boards and commissions. Governors Mills Godwin and John Dalton appointed him to the Virginia Solid Waste Commission. Gov. Charles Robb appointed him as Northern Virginia's representative to the Virginia Department of Highways Commission. The Alexandria City Council appointed him to serve on the Alexandria Economic Development Authority. The City Council also asked Guiffre to lead two ad hoc efforts: Operation Bailout was a flood relief program that collected and stored furniture and other household items for distribution to flood victims in Del Ray and Arlandria. Zero Litter collected anything that households wanted to discard, refrigerators to trash. The city now collects those kinds of things twice a year. A third activity he chaired, Alexandrians for a Better Community, was conceived at an Alexandria Chamber of Commerce meeting. The chamber was responding to President Reagan's suggestion that basic needs were best met at the local level. The resulting study demonstrated that Alexandria, through local charities and city efforts, met the basic needs for food, shelter and clothing for the poor.
GUIFFRE ALSO SERVED as chair on the boards of many nonprofit organizations including the Alexandria Chamber of Commerce, the Alexandria-Olympic Boys & Girls Club, Optimist Club of Alexandria Foundation and as a board member of Alexandria Center for Employment, a sheltered workshop to help those with disabilities find employment. He chaired the local American Cancer Society's "buckboard" fundraising effort and was involved with other efforts. He is past president of the Virginia Beer Wholesaler's Association and served Alexandria well by bringing the National Beer Wholesaler's Association there. "This made my commute easy when I served on their board, Guiffre said.
"I am most proud and edified by the work I have done with St. Mary's Church in Old Town where I have served as an extraordinary minister of Holy Communion and in many other capacities. I have supported St. Mary's School and Bishop Ireton High School because I believe strongly in Catholic education," Guiffre said.
He has received many personal and professional awards: the Jaycees Alexandrian of the Year in 1975, the Alexandria Chamber of Commerce George Washington Leadership Medal, the United Indians of America Outstanding Citizen Award for his efforts to restore Jim Thorpe's gold medals, two beautification awards from the City of Alexandria, the Boys Club Medal for Service; the Generations of Giving Award from ACT for Alexandria, the St. Mary's Grammar School Distinguished Alumni Award, the Brent Society recognition for Catholic Schools Activities and Alexandria Optimist of the Year.
Guiffre retired from Guiffre Distributing Company in 1993. His son, Michael, is now the president of the company and Guiffre remained chairman of the board of directors until last year. His daughter Julie, who lives in Old Town, heads up a Bible study group of 150 women at St. Mary's Church called "Walking With Purpose."
"I am proud of all of my children, particularly the way they are raising their own children," Guiffre said. "Two of my children, Teresa and Susan, have adopted two children each in addition to having their own. There is no greater gift we can give than to adopt a child who was born into difficult circumstances and give that child the love and opportunities he or she might not have had otherwise."