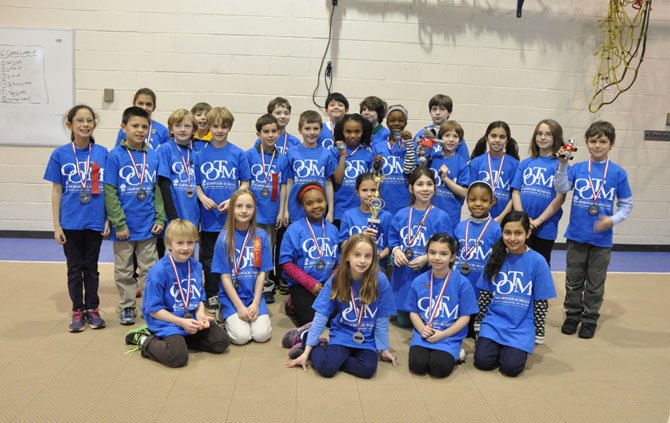 Potomac — Some Potomac-area students were recognized recently for their creative thinking and collaborative abilities when Norwood School in Bethesda hosted Odyssey of the Mind earlier this month.
Odyssey of the Mind is an international educational program that provides creative problem-solving opportunities for students in kindergarten through college. All five of Norwood's teams qualified for the World Finals, which will be held at Michigan State University in May.
During the competition, Odyssey of the Mind teams are asked to solve a problem from a choice of five possibilities, which change every year, but fall into the same five general categories: mechanical/vehicle, classics, performance, structure, and technical performance. This year's problems were titled: "Pet Project" (mechanical/vehicle), "The Email Must Go Through" (technical performance), "ARTchitecture: The Musical" (classics), "Tumble-wood" (structure), and "It's How You Look at It" (performance). Each problem presents a challenge, which must be solved and presented though a skit while following specific directions and within allotted time and cost limits. Additionally, teams practice spontaneous problem-solving, which can range in challenge from hands-on building to answering a verbal prompt.
"Our school has always encouraged and celebrated creativity, whether in the art studio, writing class, the science lab, or in math class," said Dick Ewing, Head of School in a statement. "With its emphasis on creativity and learning by doing, Odyssey of the Mind is a natural fit for Norwood, and many of our students have embraced this opportunity not only to expand their creative problem-solving skills, but to be involved a fun activity with their classmates."
Norwood has participated in Odyssey of the Mind for the past four years. Third Grade Teacher Meghan Dinardi, who participated in the 34-year-old program when she was a young student, introduced the program to the Norwood School.