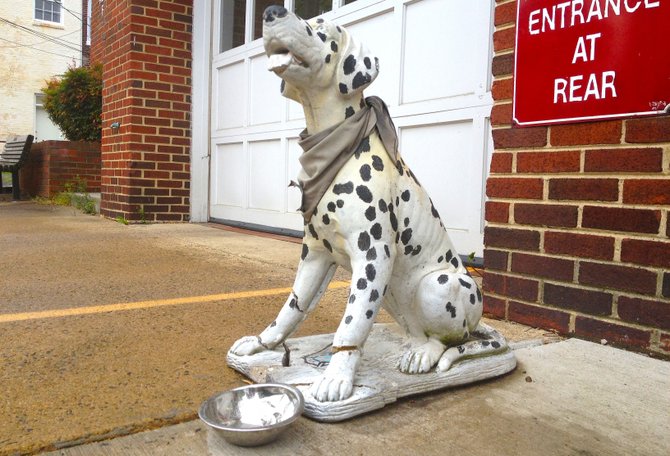 Ever since they were donated to the two Old Town fire stations a few weeks ago, the antique Dalmatian statues have stood as silent witnesses to the life of Alexandria's firefighters. They have seen the engines come and go, sometimes on perilous missions other times for false alarms. But earlier this month, both of the antique statues found themselves in the crosshairs of an emergency.
During a weekend night in early April, both of the statues were targeted. The one at the Prince Street station was smashed to pieces, which were later found in the alley behind the station. The one on Cameron Street had its front legs broken — an act of vandalism that has now been restored somewhat, as the pieces have been reassembled and returned to the front of the station.
"I have no idea why anyone would do something like this," said Patrick Evans, president of the Black Fire Service Professionals of Alexandria. "We suspect this happened sometime after the bars closed, and somebody was feeling mischievous."
That theory may explain the Prince Street vandalism because station 201 is very close to the bars on lower King Street. But it doesn't explain the incident on Cameron Street, which is significantly farther away from the bars and out of path used by late-night partygoers. Fire Department officials say it seems unlikely that the two incidents would be unrelated, although it's unclear what would motivate such an act of destruction.
"It's very strange," said Fire Chief Adam Thiel. "Why would somebody do this? I have no explanation."