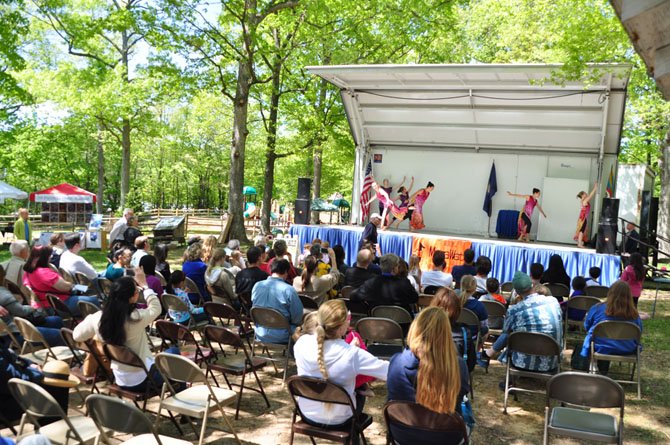 Great Falls — Members of Great Falls and the surrounding communities gathered at the Grange and the Forestville Schoolhouse Sunday, May 5, for Great Falls Day. In celebration of the two historic buildings, as well as other signature aspects of Great Falls, hundreds attended the event to enjoy a pleasant Sunday and learn more about history.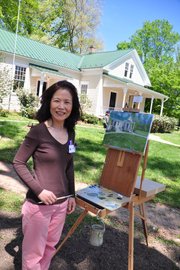 "I pass the Grange and the schoolhouse every single weekday, and though I figured they were old buildings, I had no idea about their history until I walked in," said Greg Howard of Great Falls. "Especially the schoolhouse, which has such a fascinating history, I was really interested in its days as a schoolhouse, and the displays were so well done."
The right side of the Forestville Schoolhouse was filled with old photos and stories about its days as a schoolhouse, then later as a post office and a bank. The other side was filled with art from local artists depicting some of Great Falls' signature locations, which were sold as a fundraiser for the Great Falls Historical Society.
"When the idea of an art show first came up, they asked me if I could bring some paintings of how places were in the 1800s, because that's the era they're focusing on," said Hwa Crawford, a painter who had several works on display. "But I'm a plein air painter, I go out and paint what I see, and I wasn't around in the 1800s, so I didn't have much for that part. But I have a lot of paintings of the bluebells around Great Falls, such as in Riverbend Park, and those are a timeless part of this community."
In addition to showing off a few of her paintings Crawford was able to start a new one, setting up her easel just in front of the schoolhouse and spending a few hours on a painting of the building.
The paths in front of the schoolhouse and the Grange were littered with tents, each one featuring an organization or local family ready to tell their story.
"My son and I spent about 30 minutes speaking with the Great Falls and McLean Historical Society, as well as with some of the families that have owned land around here for decades, and I think we both learned more than we could have in a semester of history class," said Gordon Cruz. "I guess there's more important things to learn in the local schools here, but man, I wish they took some time to get these people into the classroom and show off what they know."