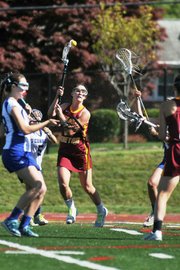 As a freshman lacrosse player at W.T. Woodson, Isabel Obregon earned 2012 Patriot District Player of the Year honors and helped lead the Cavaliers to a district championship.
One year later, Obregon is again an impact player entering the postseason. But this time, she's in a whole different world.
Now a sophomore, Obregon plays for Bishop Ireton after transferring to the school on Jan. 29. The Cardinals are having a successful season, entering the Washington Catholic Athletic Conference tournament as the No. 2 seed, and Obregon has faced several challenges while looking to make an impact in her new surroundings.
Off the field, Obregon, a Fairfax Station resident, dealt with the social challenges of moving to a new school mid-year and the academic challenges of making the switch from public school to private.
"It was definitely different," Obregon said. "It's been a lot of adapting for me."
While an increase in homework can be tough, there can be perks, such as having to wear a uniform at Ireton. Obregon said she gets an extra hour of sleep not having to worry about getting ready in the morning.
On the field, Obregon has faced stiff competition as the Cardinals have battled WCAC foes and nationally-ranked foes such as St. Stephen's & St. Agnes and Georgetown Visitation. While opponents have been tough, Obregon has also had to adapt to her talented supporting cast. She's no longer the primary standout, something Obregon said was difficult at first.
"She's a 16-year-old kid," Ireton head coach Rick Sofield said. "It's a big change for her to go to a different school: different social dynamic, different academic challenges, different group of girls [she's] playing with on the team, and she's going from a position where she's the go-to girl on the team to a team where there are eight go-to girls out there at any given time. She's really transitioned well, and she's been committed to being a good team player and working within the system of what we're trying to do."
Obregon has also battled various physical ailments during the season, including having a nasal procedure to improve her breathing, which forced her to miss time early in the spring. She was battling leg tendonitis during Ireton's regular season finale against Bishop O'Connell on May 3. Despite playing at "80 percent," Obregon scored three goals during a 15-5 Cardinals victory.
Ireton defeated St. John's 18-5 in the WCAC quarterfinals on Tuesday and will host Holy Cross in the semifinals at 4 p.m. on Thursday, May 9.
Said Obregon: "I'm definitely benefitting from being here."