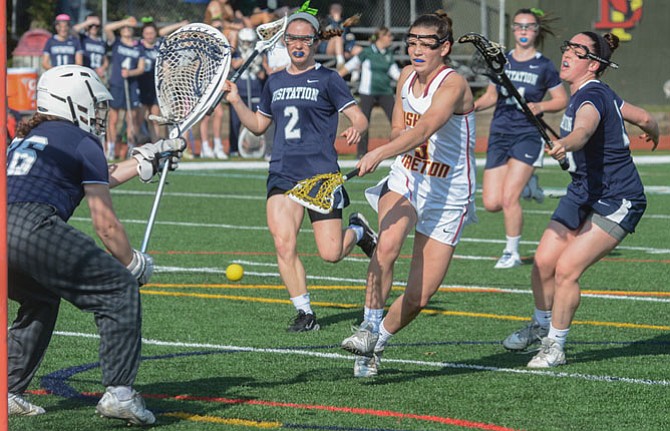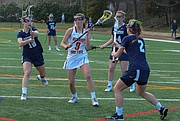 The Bishop Ireton girls' lacrosse program made school history in 2014, winning its first WCAC championship. The Cardinals also took home the VISAA title by beating national power and Alexandria foe St. Stephen's & St. Agnes for the first time.
Ireton received national recognition in 2015 and was ranked as high as No. 2 in the Nike/Lacrosse Magazine top 25. The Cardinals fell short in the WCAC tournament, however, but repeated as VISAA champs with another victory over the Saints in the state final.
Ten months later, Ireton enters the 2016 season having graduated several athletes who were instrumental in the Cardinals' rise to national prominence, including Charlotte Sofield (North Carolina), Kelly Mathews (Boston) and Kaitlin Luzik (Virginia). Ireton is ranked No. 8 in the Nike/Lacrosse Magazine national preseason poll and the Cardinals' schedule is again loaded with quality opponents.
Can Ireton continue its recent run of success with different players stepping into leadership roles?
Based on the team's performance during its season opener on Tuesday, the Cardinals are once again a championship contender.
Junior midfielder Kayla Duperrouzel scored five goals and helped give the Cardinals a significant draw control advantage during a 16-8 victory over Georgetown Visitation at Bishop Ireton High School. Visitation, ranked No. 25 in the Nike/Lacrosse Magazine preseason poll, trailed 10-7 with 12 minutes remaining in the second half, but Ireton closed the contest with a 6-1 run.
Duperrouzel made an impact winning draws and scoring goals. She also and added style points, scoring the game's final goal with a slick around-the-back shot.
"She's awesome. Wasn't she absolutely phenomenal?" Ireton head coach Rick Sofield asked. "... The kid had five goals, two assists and six draw controls to herself. If you look at the draw totals ... we won draws 21-5. Things are going to go well for you when you win draws 21-5."
Duperrouzel's goal from free position with 22:52 left in the second half gave Ireton a 10-5 advantage.
"It was really a big question as far as other people's perception of us how we were going to be this year filling those roles and I think we were able to prove to ourselves and other people what we know — that we are going to be competing this year," Duperrouzel said. "We are not slacking off from last year and I think it was a good way to kind of prove that we're the same team we were last year."
The William & Mary commit figures to have an increased role on this year's team.
"I think my role is definitely a lot different," Duperrouzel said. "Last year, I was obviously mainly working on the draw. I think I still had an attacking role last year but this year it's really on me to assert myself more. I'm kind of able to use some confidence that I've gained as a freshman and a sophomore and to really be a leader on the field this year, which is something that we've had really good girls be in the past and something I need to step up to do this year if we want to repeat some of the success we've been having."
Senior attacker and Navy signee Kelly Larkin is another key piece of the Cardinals' championship plans.
"She's just an absolute leader," Sofield said. "... She's an incredible talent and just works harder than anybody out there. She's going to do super things this year."
Larkin finished with two goals and two assists against Visitation. Her goal with 10:23 remaining increased Ireton's lead to 12-7.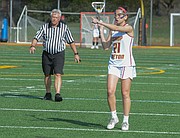 Ireton sophomore midfielder Madison Mote (Dartmouth) scored three goals on Tuesday. Sophomore attacker Lexi Ledoyen (Syracuse) and junior attacker Kate Carney (Cincinnati) each finished with two goals, and junior midfielder Caton Brisbin (Iona) and senior midfielder Maggie Lohrer (Boston) each had one.
Larkin said the Cardinals need to maintain their focus while receiving national recognition.
"The reputation of being a nationally-ranked team is definitely something that's cool and it's nice to have that kind of attention, but at the same time you can't let that get to you," she said. "Like Coach says, he still expects more from us no matter what. No matter what other teams think of us, it's always just a matter of how hard we work and how smart we are on the field."
Sofield said he has changed his approach to handling national attention.
"I think one of my failings from last year is I let the girls pay attention a little bit to the national ranking stuff and that was my fault," the sixth-year Ireton coach said. "That came up and it bit us in the playoffs last year — we lost to Holy Cross [in the WCAC tournament], who we beat in the regular season. They were up for it and we looked past them and they were too good a team for that, and so that's entirely on me. This year, we're not paying any attention. I don't let them read articles about themselves, I tell them don't believe the hype. We want to stay focused on winning six games in May. We need to get back to our basics and the basics for us is win three WCAC games in May, win three VISAA games in May and the regular season is all preparation for that."
Ireton will host Hill Academy from Ontario, Canada, at 5:30 p.m. on Thursday, March 17.