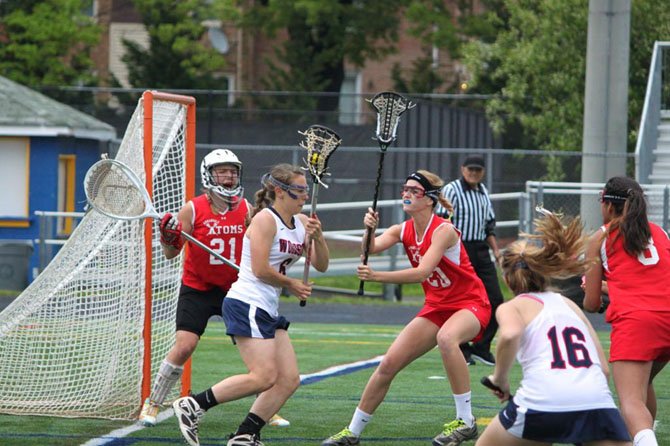 Springfield — Laura Dunn was the first of the Cavaliers to introduce herself to Patrick Mahler, who this year became the Woodson girls' lacrosse program's third head coach in as many seasons.
From that moment, Mahler said, Dunn has been the team's "consummate leader."
"She's like the rock," said Mahler, a former Annandale boys' assistant who graduated from Woodson in 2000. "We have four captains, but they all kind of defer toward her. She's just a natural leader --- kind of an alpha dog kind of thing."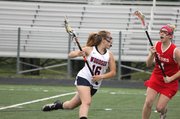 Dunn has been on the varsity since her freshman year, experiencing three consecutive Patriot District titles. Now a senior captain, Dunn led the way as the Cavaliers earned a trip back to a familiar championship stage.
Dunn scored a game-high six goals and top-seed Woodson defeated No. 4 Annandale 18-8 on Tuesday night in the semifinal round of the Patriot District tournament at Lee High School. The Cavaliers secured a berth in the district championship game, where they will face No. 2 Lake Braddock at 5:30 p.m. on Friday, May 10 at Lee.
Dunn scored four goals in the first half as Woodson built a 9-5 halftime advantage. Her final goal gave the Cavaliers a 16-5 lead with 16:22 remaining in the second half.
"It's like all the pressure is on me now being a captain and a senior," Dunn said, "but it's good. It's a good feeling."
Dunn was not alone as two other Cavaliers scored at least four goals. Junior attack Alex Lightfoot tallied five goals and three assists and senior midfielder DeeDee Montgomery finished with four goals.
Woodson jumped out to a 5-1 lead, thanks to two goals from Dunn and one goal and two assists from Lightfoot. Annandale responded with three straight goals, cutting the Woodson lead to 5-4 with 7:36 remaining in the first half. Lightfoot and Dunn each scored again before a goal by Annandale's Janan Gokturk cut the Cavalier advantage to 7-5 with 3:43 left in the half.
"We have four captains, but they all kind of defer toward her. She's just a natural leader --- kind of an alpha dog kind of thing."

--- Woodson girls' lax coach Patrick Mahler about Laura Dunn
It was all Woodson from that point as the Cavaliers embarked on an 11-0 run, holding Annandale scoreless for a stretch of more than 16 minutes.
Lightfoot scored three of Woodson's first six goals of the second half.
"[Dunn and Lightfoot] are our offense," Mahler said. "We like to run and gun, but when we settle, dodging is essentially our meat and potatoes and those are two elite dodgers and goal-scorers. When they are rocking and rolling, then we rock and roll. … They do our heavy lifting on the offensive end."
Kelly Stegner, Jasmine Kim and Claire Swanson each scored one goal for Woodson.
Freshman midfielder Ashley Britton led Annandale with four goals.
Woodson improved its record to 11-2 and extended its winning streak to 11 games. The Cavaliers lost to Langley and Madison by a combined three goals to open the season and haven't lost since.
Annandale fell to 10-6 and will play again in the opening round of the Northern Region tournament.
Woodson moved from the Liberty District to the Patriot District in 2010 and proceeded to win the Patriot championship each of its first three seasons. The Cavaliers will face Lake Braddock in the district final for the second straight year.