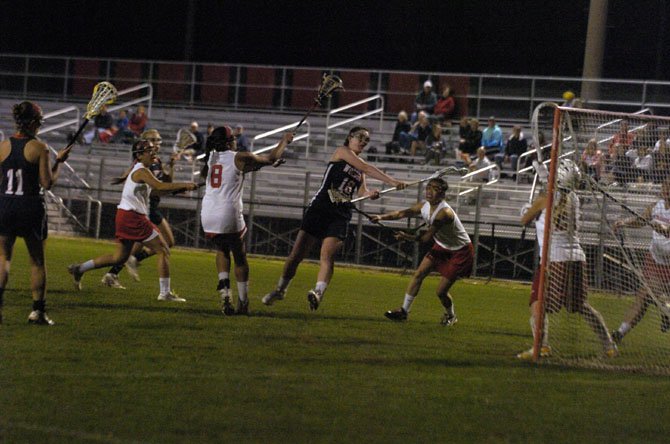 Annandale attacker Sureyya Gokturk's goal with 18:30 remaining in the second half tied the score at 7 during Tuesday's contest against the perennial Patriot District power Woodson Cavaliers.
Little did the Atoms know, their evening was about to go downhill quickly.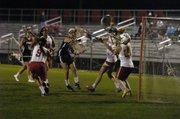 The Woodson girls' lacrosse team scored the next 10 goals, including three straight by senior Alex Lightfoot, en route to an 18-8 victory on May 6 at Annandale High School.
Woodson won four consecutive Patriot District championships after moving over from the Liberty District in 2010. Now a member of Conference 7 (composed of seven of the previous eight Patriot District teams) after the VHSL's six-class realignment, the Cavaliers are looking to continue their postseason success. Tuesday's win improved Woodson's record to 8-2, including 5-0 against conference foes.
"We expect to win the [conference]," second-year Woodson head coach Patrick Mahler said. "That's our first goal. We expect to be playing into the month of June and give ourselves a chance for the big trophies."
Woodson appears to have the firepower to make a postseason run. Junior midfielder Isabel Obregon, who was named Patriot District Player of the Year as a freshman in 2012 before playing her sophomore season at Bishop Ireton, scored a game-high eight goals, many of which came early while the score was tight. Senior midfielder Kelly Stegner scored the go-ahead goal with 16:38 remaining, giving the Cavaliers an 8-7 advantage. Lightfoot scored the next three goals as Woodson started to pull away.
WOODSON'S 10-0 RUN started after Annandale standout Ashley Britton left the field after receiving her second penalty card.
"We expect to win the [conference]. That's our first goal. We expect to be playing into the month of June and give ourselves a chance for the big trophies."

--- Woodson girls' lacrosse coach Patrick Mahler
"I definitely think we were all panicking in the beginning because we kind of got into our own heads before the game," Obregon said. "I think we were over-analyzing the other team. I don't think we had enough confidence."
If the Cavaliers were lacking confidence, it didn't show in the second half.
"We knew that they were going to be aggressive and we knew that they were going to get fouls, in particular certain players, so we knew when those players were in the penalty box, that we needed to take advantage of our opportunities," Mahler said. "Senior leader Alex Lightfoot did that exact thing and had [three] in a row. We knew that it was just a matter of time before their over-aggression got the best of them and then we were able to capitalize on that."
While seven different Cavaliers scored at least one goal, Obregon and Lightfoot carried much of the offensive load. Obregon scored six of the team's first seven goals and finished with eight. Now a junior, Obregon transferred back to Woodson from Bishop Ireton at the beginning of the second semester in January and re-joined the Cavalier lacrosse program. The University of Maryland commit said she is enjoying being back at her former school.
"I'm definitely having more fun with lacrosse here," she said, "because it's a lot less stressful."
Mahler said Obregon struggled at first with transitioning back to Woodson, but No. 18 has come on strong.
"It was a change," Mahler said. "She's a high school girl and she's a creature of habit. The change so late in the school year really made it a roller coaster experience for her, but now it's starting to level out, especially after spring break."
Lightfoot, who will play at Randolph Macon, finished with four goals for Woodson.
"Alex Lightfoot's been playing since she was 6 or 7 years old," Mahler said. "She might not be the most athletic, but she has all of the nuances and she knows how to play the game. She's very, very crafty and very, very smart. She has excellent stick skills."
Sophomore attacker/midfielder Claire Swanson scored two goals for Woodson. Stegner, Grace Stephan, Emily Williams and Emma Vinall each scored one.
WOODSON WILL TRAVEL to face Lake Braddock at 7:30 p.m. on Friday, May 9, and close the regular season at home against Lee on Monday, May 12.
"I know that Woodson can make it very far," Obregon said. "We have talent on the team. Even our bench is very deep. I expect to definitely win our [conference]."