Springfield — After Woodson midfielder Grace Finnerty scored her fifth goal of the Patriot District girls' lacrosse tournament final against Lake Braddock on May 11, the Bruins' coaching staff asked for a stick check.
An official's inspection deemed the stick legal and Finnerty glared at the Lake Braddock bench. The senior had just given Woodson a two-goal lead late in the contest and no amount of gamesmanship was going to save Lake Braddock.
After losing to the Bruins in the regular season, Woodson found a way to win "when it matters," beating Lake Braddock, 14-11, at Lee High School to capture the program's third consecutive title since moving to the Patriot District during the 2009-10 athletic year. For Finnerty and the rest of the Woodson seniors, it was their fourth straight district crown.
"It feels awesome because I feel like we're always the underdog," Finnerty said, "and we always like to win when it matters."
"They wanted to defend their title, so that was the biggest thing. We lost to Lake Braddock [during the regular season], so we needed redemption."

— Woodson girls' lacrosse coach Amy Herbert
Woodson jumped out to a 6-0 lead in the game's first five minutes, thanks in part to four goals from Finnerty. Lake Braddock slowly chipped away and pulled to within one on four separate occasions, but the Cavaliers always did enough to maintain the lead.
"They wanted to defend their title, so that was the biggest thing," first-year Woodson head coach Amy Herbert said. "We lost to Lake Braddock [in the regular season], so we needed redemption. … I think the whole week I told [the Cavaliers] that Lake Braddock is going to put in goals and that's going to be OK. It's whether or not we put in another one and that's what we said each time: 'Yeah, they put in a goal, but we're going to put in another one.'"
While Woodson features such athletes as district Player of the Year Isabel Obregon, a freshman, and all-district first-teamers Elena Obregon and Laura Dunn, it was Finnerty, an honorable mention choice, who led the offense with five goals.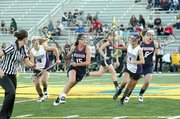 "Grace has been coming on and she's not noticed by a lot of teams, which is very nice," Herbert said. "It's almost like a secret weapon. They don't choose to mark her, they don't think she's going to go to goal, but she just sneaks in there."
Dunn scored four goals for the Cavaliers. Elena Obregon finished with two goals, and Isabel Obregon, Jasmine Kim and Leah Williamson each scored one.
"This game was definitely our best team game," Elena Obregon said. "We played so well together and I haven't seen us play this well all season."
Lake Braddock responded to Woodson's 6-0 start with five consecutive goals. The Bruins trailed 6-5, 7-6, 8-7 and 11-10, but couldn't get over the hump.
Kristen Gaudian led the way for Lake Braddock with five goals. Alexis Torres and Grace Youn each scored two goals and Taylor Livick and Jade Samec each scored one.
Lake Braddock goalkeeper Alyssa Harrison, attacker Allie Snow, who missed the district final due to injury, defender Shannon Klein and Livick earned first-team all-district honors.
"It's so exciting," Isabel Obregon said. "I'm only a freshman and we still have the next [three] years ahead of us and we have so much potential. I'm glad we got [the district title] because we didn't beat [Lake Braddock] first, but we beat them when it counted."
Woodson defeated Falls Church, 16-8, on May 15 in the opening round of the Northern Region tournament. The Cavaliers will host the winner of Langley and Westfield on Thursday, May 17.