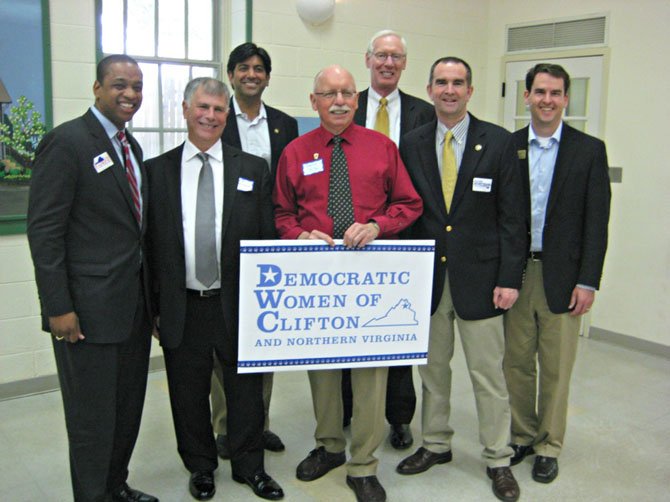 On Saturday, April 27, from 3-5:30 p.m., a standing-room-only crowd of approximately 150 people gathered at the Clifton Community Hall for the 2013 Democratic Candidate Forum sponsored by the Democratic Women of Clifton and Northern Virginia (DWCNV) and the Democratic Women of Lake Ridge (DWLR).
Dr. and State Senator Ralph Northam, representing the 6th District, and Aneesh Chopra, former U.S. chief technology officer under President Obama, both vying for the Democratic nomination for governor, shared their vision for the commonwealth, as did State Senator Mark Herring, representing the 33rd District, and Justin Fairfax, former assistant U.S. attorney for the Eastern District of Virginia, who are both seeking the Democratic nomination for attorney general. Following their platforms, candidates responded to questions from DWCNV and DWLR members and guests.
Five local Democratic candidates for delegate also participated in the forum: John Bell (D-87), Ed Deitsch (D-42), Jerry Foltz (D-40), Reed Heddleston (D-51) and Jeremy McPike (D-31).
Immediately preceding the forum, members of the Democratic Women of Clifton (DWC) approved a motion to expand the name of the organization to Democratic Women of Clifton and Northern Virginia (DWCNV). This action was taken in recognition of the fact that Democratic women from other jurisdictions throughout Northern Virginia have always been encouraged to join this organization.
The DWCNV will hold its annual family picnic on Sunday, May 19, at 3 p.m. at Occoquan Regional Park. A possible pool party and a fun night out for members at a local restaurant are also being planned for the summer months.
The DWCNV's next general membership meeting will be held on Sunday, Sept. 15, from 3-5 p.m., and will feature special guest speaker Eleanor Clift, a contributor to Newsweek and The Daily Beast, author, and a member of The McLaughlin Group, a weekly public affairs program. Another general membership meeting will be held in October and will focus on the statewide election in November. All Democratic women in Northern Virginia are warmly invited to become members of this active and friendly organization. Meetings are held on Sundays from 3-5 p.m. in the Clifton Community Hall. For more information, write cliftonwomendems@aol.com or visit the DWC website at www.democraticwomenofclifton.org.