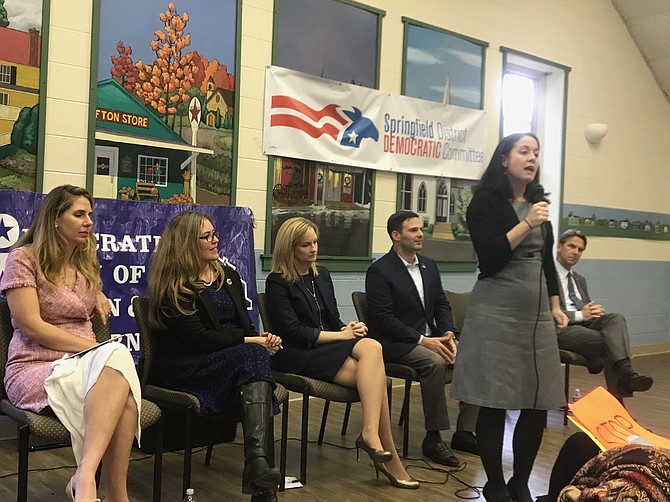 A large and enthusiastic group of more than 200 Democrats gathered at the Town Hall in Clifton for the Annual Democratic Forum on April 29, co-hosted by the Democratic Women of Clifton and Northern Virginia (DWCNV) and the Springfield District Democratic Committee (SDDC).

The candidates, Julia Biggins, Alison Friedman, Daniel Helmer, Paul Pelletier, Lindsey Davis Stover and Jennifer Wexton, spoke about their backgrounds, why they are running, and issues most important to them. They also took questions from the audience, asked by Moderator State Sen. George L. Barker (D-39).
The primary election will be held on Tuesday, June 12.

"The energy and excitement surrounding the 10th District race is palpable. We have a great selection of candidates. I hope audience members felt the Forum helped them choose the candidate who will beat Barbara Comstock in November", said Jennifer Lowe-Davis, Chair of SDDC and Co-chair of DWCNV.
Co-Chair of the DWCNV, Jane Barker, said in her closing comments, "We have six excellent candidates and we urge you to vote in the June 12 primary. After the primary, please support and work for our nominee right up to the General Election on Nov. 6. Every vote counts!"
For more information about activities, meetings, or membership in the DWCNV, visit www.democraticwomenofclifton.org, www.facebook.com/dwcnv or email info@dwcnv.org or
For more information about the SDDC, go to: www.springfielddemsva.org, www.facebook.com/SpringfieldDemocrats, or email springfield@fairfaxdemocrats.com