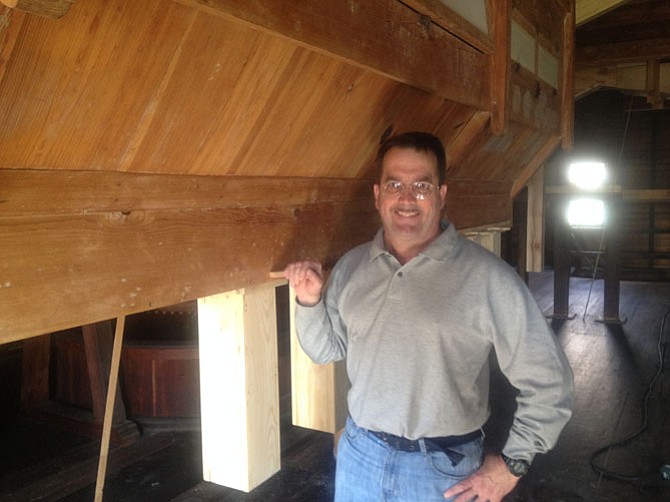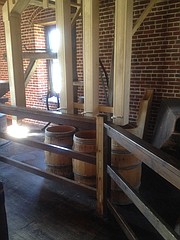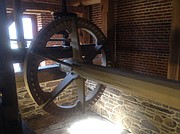 Colvin Run Mill Park Manager Mike Henry is planning for busy weeks ahead. A Restoration Celebration will take place at Colvin Run Mill Historic Site on April 19. There will be an official grand reopening ceremony open to the public at 1 p.m. Operated by the Fairfax County Park Authority and located at 10017 Colvin Run Road in Great Falls, the mill is a popular year-round destination. With restorations complete at Colvin Run Mill, the 200-year-old park is harking back to its glory days.
Thanks to a $75,000 grant through the Partners in Preservation social media contest sponsored by American Express and the National Trust for Historic Preservation, the original restoration of the mill that started in the 1970s was on its way to fulfillment last year. Grinding with the main stones at Colvin Run Mill Historic Site stopped for a few months when Miller Mason Maddox found a crack in the 6,000-pound main axle of the site's water wheel. The fractured shaft was replaced with an oak tree that fell in New York State during Hurricane Sandy in October 2012. Ben Hassett, one of the few remaining millwrights in the nation, conducted the repair work at Colvin Run Mill in Great Falls.
FAIRFAX COUNTY spent about $1 million restoring the mill between 1968 and 1972, but stopped before finishing when funds ran out. "This project is to complete restorations begun in the 1970's," said Hassett. Hassett helped Colvin Run Mill mirror a system outlined in Oliver Evans' 1795 book, "The Young Millwright's and Miller's Guide." Colvin Run Mill is the sole surviving operational 19th-century water-powered mill in the Washington, D.C. metropolitan area, and its restored mechanism is a significant example of automated technologies pioneered in milling and adopted across American industry. Milling ended at the site in the mid-1930s and thereafter the mill was abandoned. Citizen interest inspired the Fairfax County Park Authority to acquire the property in the mid-1960s.
The mill opened as a museum in 1972, and visitors can observe its historic machinery in full operation. The restoration work completed at Colvin Run Mill now completely shows the Oliver Evans' (1755-1819) automated process that revolutionized late 18th and early 19th century flour milling in America. Evans' system was the foundation of the modern automated industries that followed. Locally, George Washington received one of the first licenses to use Evans' system in his mill on Dogue Creek in Fairfax County.
Evans' automated milling system integrates several elements into a continuous process that reduces the amount of manual labor required to operate a gristmill. These include grain elevators (which have buckets attached to endless canvas or leather straps which revolve over two pulleys), wooden Archimedean screws (or conveyors), and a corn bolter. One of newer additions to Colvin Run Mill is the corn bolter which dates back to the early 19th century. Named "Elvis" by staff members, the period piece corn bolter has period graffiti on it.
Park Manager Mike Henry suspects with completion of the repairs, there may be an increased demand of ground grain products at local restaurants. Colvin Run Mill still grinds enough corn and wheat to supply the associated general store, as well as several area restaurants. The Fairfax County Park Authority Board approved three Mastenbrook grants in mid-February, setting in motion more than $20,000 in improvements at Colvin Run Mill Historic Site, Turner Farm as well as Idylwood Park. These bond funded grants provide limited matching funds for projects in Fairfax County parks.

In its heyday, Colvin Run Mill could have produced nearly 4,000 pounds of flour daily, enough to fill twenty 196-lb barrels. Each barrel would have been hand crafted to exact specifications written into Virginia law in the 1780s. Colvin Run Mill has 13 reproduction barrels on display, and wanted seven more to show the mill's daily output. The new barrels were commissioned from cooper (barrel maker) Ron Raselis of Strawberry Banke Museum in New Hampshire who made the park's original barrels. They were funded by a combination of Friends of Colvin Run Mill, public donations and a matching grant from the Park Authority's Mastenbrook program. "We are very thankful for community support, and for all the assistance from our volunteers," said Henry.
THE COLVIN RUN MILL reopening ceremony will be open to the public. Everyone can enjoy tasty treats made from mill products and children will have fun with activities just for them. Grain grinding demonstration will last from noon-3 p.m. This is a free event and no registration is required. For more info on the mill, visit www.fairfaxcounty.gov/parks/colvinrunmill/.