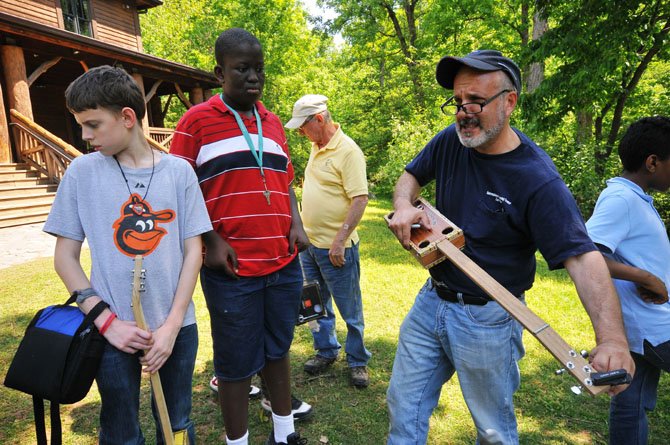 Photo Gallery
Making Learning Fun
Click Photo for Flash
The students chattered and compared paint colors as they strolled along the path at the Winkler Preserve on Friday, May 10, to launch hand-crafted model sail boats and play the cigar box guitars they had made over the past semester in their class through a joint effort by the Alexandria Seaport Foundation and Alexandria City Public Schools.
"Learning this way works because students are able to see the usefulness of what they're doing first-hand," said Joe Youcha, director of Alexandria Seaport Foundation's Building to Teach Program.
Emmet Rosenfeld, coordinator of the International Baccalaureate Middle Years Program for Alexandria City Public Schools said, "This educational approach combines learning in the classroom with the real world. It is an authentic experience for the students and results in better engagement, an understanding that knowledge is connected, and requires the commitment and persistence necessary to see a job through to fruition."
"This relationship between students, community, schools and the Alexandria Seaport Foundation is so effective", said teacher Matt Cupples. "The students are learning without even realizing they are."
For more information about project-based learning go to www.alexandriaseaport.org, www.buildingtoteach.com, or call 703-549-7078.