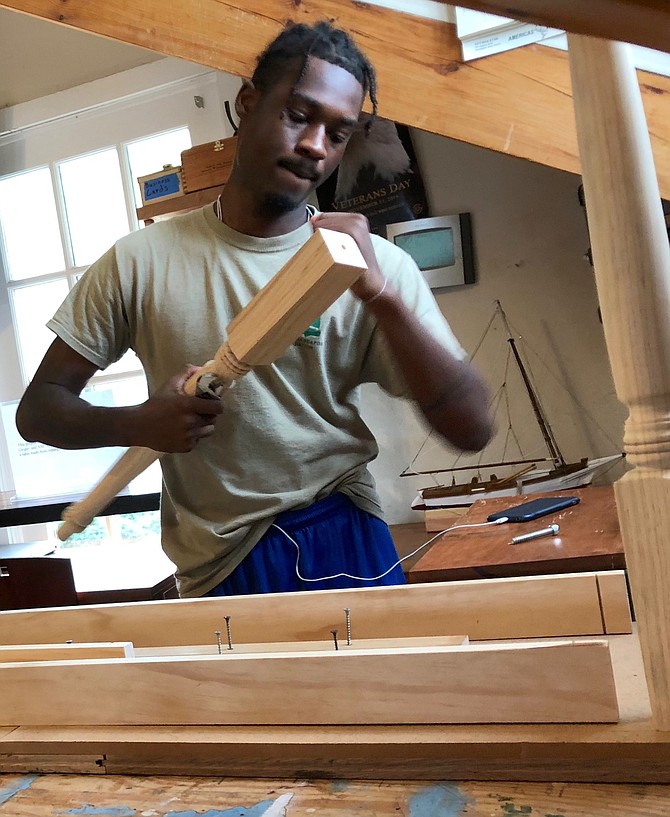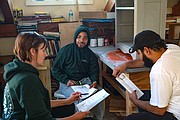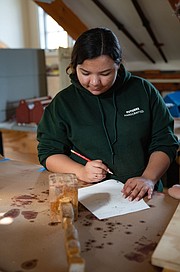 Recent visitors to the Old Town waterfront may have noticed a new hub of activity at the Alexandria Seaport Foundation. Following a fire in April that did significant damage to the first floor of the building, apprentices, staff and volunteers are once again in full swing repairing and refinishing historical boats.
"New apprentices are building small and large wooden projects, and, if the weather is fair, apprentices are sailing and rowing traditional wooden boats on the Potomac," said ASF Executive Director Kathy Seifert. "All of this activity reflects a thriving Apprentice Program, the Seaport Foundation's intensive program to craft new futures for youth who need the most."
The Seaport Foundation's McIlhenny Seaport Center, a timber-framed building that floats on the Alexandria waterfront, is at capacity, serving 12 young people in need of a second chance. According to Seifert, this group of apprentices faces significant challenges:
• 40 percent need a GED or high school diploma,
• 38 percent have entered the program without safe/affordable housing,
• 7 percent need a driver's license,
• 62 percent are court involved, and
• 31 percent are in need of health care coverage.
In addition, Seifert added that many apprentices have suffered abuse and neglect and have challenges with anxiety and depression.
"At the Seaport Foundation, apprentices work in a safe and caring environment to learn the work and life skills that will put them on a new path toward success," Seifert said. "Through the craft of woodworking and traditional boatbuilding, they learn technical skills and habits of mind that they need for success in employment and adulthood."
The nationally recognized ASF Apprentice Program has impacted hundreds of young men and women in the metropolitan area since 1993 and recently lowered its minimum age to 16 years old in order to reach more struggling youth.
This change resulted from an extensive Community Needs Assessment completed last year by Seifert and the Apprentice Program founder (and a 2008 Living Legend), Joe Youcha.
"Input from city leaders suggested a void in programs for young people ages 16-18, a population whom the courts are desperately trying to keep out of prison but who are not succeeding in traditional school settings," Seifert added.
Working with local web design and marketing companies, Ironistic and Hudson Studios, the ASF has both a new logo and website which better reflect its focus on work with young people.
"The Seaport Foundation is looking to build a second boat shop on the waterfront to facilitate the growing need for workforce development programs and hands-on learning for young adults," Seifert said.
The Seaport Center is open weekdays from 8 a.m.–4 p.m. for visitors to learn about the Foundation's work and to meet some of the apprentices. For more information or to make a donation, visit www.alexandriaseaport.org.