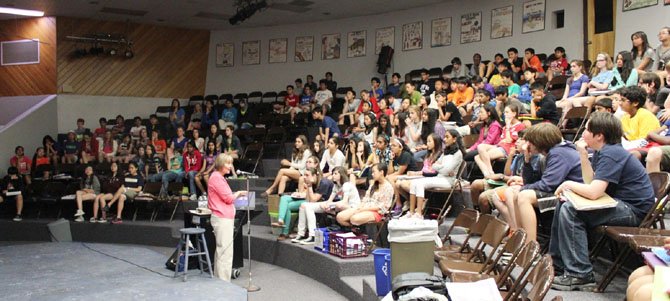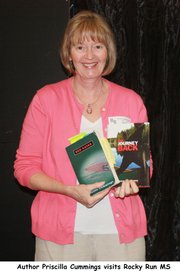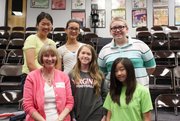 Wednesday, April 17: The students of Rocky Run Middle School were given the opportunity to meet a well-known author, Priscilla Cummings. She has written several picture books, as well as many young adult novels, including "Red Kayak." Cummings gave an informational presentation on her journey to become a writer and the sources of her inspirations. Later, students had the opportunity to interact with her in a personal and direct way.
One question she answered was how she became a published author. Smiling, Cummings began to explain how she grew up in a dairy farm and how that became one of her sources of inspiration. Although she always enjoyed writing as a child, she never thought that she would become a successful writer. However, after she volunteered in her school newspapers and newsletters, she was offered a job as a journalist for a local paper. For 10 years, she worked as a journalist, writing all kinds of articles, from kidnapping cases to political debates. But the respected author found her real passion when she published her first book, "Chadwick the Crab." After great but unexpected success, she quit her job and devoted all her time to writing picture books and novels.
To Cummings, reading is essential to writing. When asked whether or not she draws inspiration from other books she read, she answered with a firm "Absolutely." She reads the books she especially enjoys twice — once to read the book, and the second time to look into the book more closely. For her, reading other books is an escape from her current work and a great source of inspiration. Whenever Cummings is experiencing writer's block, she takes a break for a few days to read. Despite the hundreds of books she has read, her favorite has always been "Charlotte's Web." This is one of only two books she has kept since her childhood.
Finally, Cummings concluded by elaborating on the writing process of a book. For her, "Inspiration comes from every day life." For example, "Red Kayak" was a product of a tragedy she read in the papers, some figments of her imagination, as well as traits taken from the people and things around her. She also emphasized the difficulty and enjoyment that comes with her research. Trying to form a realistic and factual image in a book requires extensive research, which has taken her into a hospital's burn unit, a Juvenile Delinquent Center and several Courthouses. Although it seems dull to many, the revision process is one of Cumming's favorite parts of being an author. The writing process is long but rewarding, taking her an average of two years to finish a book.
Being able to meet with Priscilla Cummings, an esteemed author of both picture books and novels, was a true privilege for the students of Rocky Run. She showed the interested students the wonders of reading and writing, as well as specific responsibilities and task that come with being an author. Having the chance to talk with Cummings was a great honor, as she shared many tips and advices for the future. As Priscilla Cummings wrote on the books she was asked to autograph, "Keep on Reading."