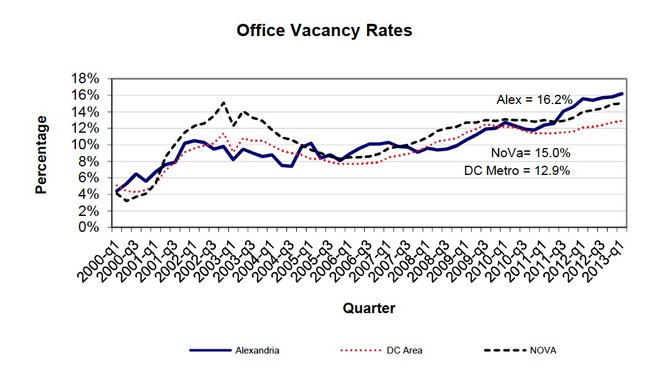 The crush of rush hour traffic at Mark Center is not the only headache caused by the Base Realignment and Closure Commission. The 2005 decision to move out of dense urban spaces into more secure environments has created a glut of empty offices in Alexandria. According to the most recent financial report, Alexandria now has a 16.2 percent office vacancy rate — the highest figure since the city began tracking data.
"Many of the expiration dates for the leases just started hitting last year, and that's why we are just now starting to see this spike," said Stephanie Landrum, senior vice president of the Alexandria Economic Development Partnership. "All that space is coming onto the market, and it's starting to be reported vacant."
From Park Center to Summit Center to the Victory Center, Alexandria is flush with vacant offices that were once home to employees of the Department of Defense. For the city, that's a twin headache. Not only do city residents have to deal with the traffic problems created by adding 6,000 new employees to the Washington Headquarters Service at Mark Center, but they also have to face the economic reality of having a historic office vacancy rate — a lack of revenue for City Hall.
"Even though we just raised the tax rate, it's still low in comparison to other jurisdictions," said Alexandria Chamber of Commerce president John Long. "We don't have the commercial add-on tax that they have in other jurisdictions, and that's the kind of thing that businesses look at when they are considering where they want to move their organizations."
ALEXANDRIA IS NOT alone in dealing with a wealth of unused office space. Other localities in Northern Virginia have also been hit by BRAC, some harder than Alexandria. Arlington County's office vacancy rate is 17 percent. That's 6.8 million square feet of vacant office space in the county. Crystal City has one of the highest rates in the region — 22 percent with 2.5 million square feet of vacant office space.
"It's a regional challenge that hits Northern Virginia and suburban Maryland," said Landrum. "Crystal City is probably one of the least healthiest office markets because of BRAC."
Within the city limits, the numbers are not distributed equally. Carlyle has a 9 percent office vacancy rate, for example, while Old Town has a 13 percent office vacancy rate. Former Mayor Kerry Donley said the trend is not likely to abate anytime soon, especially with the looming threat of sequester hanging over the financial health of the city. Donley said that means city officials need to work hard to secure major new employers such as the National Science Foundation, which is currently considering three potential sites in Alexandria.
"The increasing office vacancy rate makes the pursuit of those kinds of opportunities that much more important," said Donley. "If you land a major presence like that, it typically leads to other entities wanting to be nearby."
SINCE 2007, Alexandria's office vacancy rate has been below the Northern Virginia average and the Washington metropolitan average. Then, in 2011, that trend began to change. Alexandria's office vacancy rate shot above the regional average and the metropolitan average and has remained high ever since. Each new quarter brings yet another historic high as offices throughout the city remain vacant.
"I'd like to think that the glass is half full," said Long. "Having additional space available gives us the ability to make deals and offer discounts."
For city leaders, the challenge of vacant office space may also be an opportunity — if they can track down potential tenants who are willing to move their businesses to the city.
"The city has become tremendously more business friendly in the last five years," said Val Hawkins, president of the Alexandria Economic Development Partnership. "The approval process and the permitting process has improved immensely, and we continue to get great comments from brokers and tenants about Alexandria compared to other jurisdictions."