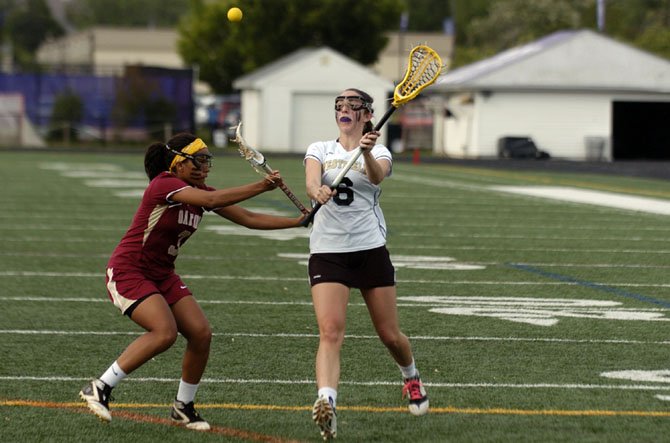 Chantilly — The Westfield girls' lacrosse team trailed late in the Concorde District championship game when a referee issued a yellow card for a dangerous shot to Bulldog junior and district Offensive Player of the Molly O'Sullivan.
Down a player and on the wrong end of an 11-10 score against Oakton with 3:25 remaining, Westfield managed to tie the score on a goal by Meghan Heick before its top offensive threat returned.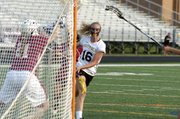 "I was pretty upset," O'Sullivan said. "I don't usually get yellow cards a lot and I don't usually take crazy shots like that. … I just had to go back in; I had a-minute-30 to redeem myself and you've just got to do all you can."
Neither team scored in the final 85 seconds of regulation and the game went to overtime.
From that point, it's fair to say O'Sullivan redeemed herself.
O'Sullivan scored a pair of goals in the first overtime period and Westfield held on for a 14-13 victory against Oakton on May 10 at Chantilly High School. O'Sullivan tied a career high with seven goals as the Bulldogs beat the defending state champions.
"She's very deceptive and hard to stop," Westfield head coach Katie Ruch said. "When she has her eye on the goal, it's really hard to stop her. She has quick movement and her shot accuracy is incredible."
Katie Manning finished with three goals for Westfield. Heick scored two, including the game-tying goal late in regulation.
"Meghan and Molly are excellent players on their team," Oakton head coach Jean Counts said. "They cannot be stopped in a very easy manner."
Katelyn Rennyson and Katie Matz each scored one goal for Westfield.
"She's very deceptive and hard to stop. When she has her eye on the goal, it's really hard to stop her."

— Westfield girls' lacrosse coach Katie Ruch about Molly O'Sullivan
Tori Anderson and Danielle Palmucci each scored four goals for Oakton. Lydia Montanino and Katie Scoggins each scored two goals and Kelsey McWilliams had one.
Oakton led 11-9 when Anderson scored with 8:58 remaining in the second half. Westfield scored the game's next five goals, building a 14-11 advantage in overtime. McWilliams scored for Oakton with 19 seconds remaining in the first overtime period, snapping a scoreless streak of more than 11 minutes for the Cougars.
Oakton had won the previous two district championships.
Westfield defeated Annandale 16-9 on Tuesday in the opening round of the Northern Region tournament, improving the Bulldogs' record to 16-1. The Bulldogs will host Stone Bridge, the Liberty District's No. 3 seed, in the quarterfinals at 7 p.m. today.
Westfield's O'Sullivan (attack), Heick (midfield), Manning (midfield) and Rachael Ulsh (defense) were named to the all-district first team.
Grace Horgan (attack), Jenna Welch (midfield) and Colby Kidwell (defense) were named to the second team.
More like this story