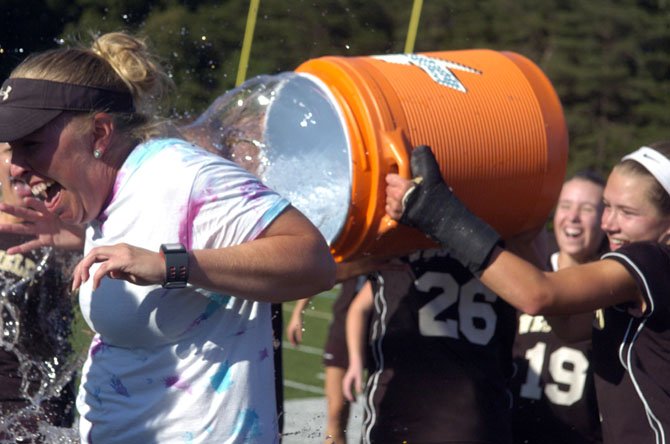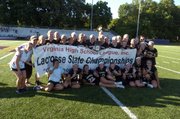 The Westfield girls' lacrosse team was playing the Oakton Cougars for the third time in the past three weeks. The first two games were for the Conference 5 and 6A North region championships, and the Cougars came out victorious.
But in the biggest game of the year, the Westfield Bulldogs came out firing and brought home the program's first state championship with a 13-11 victory on June 15 at Lake Braddock Secondary School.
Oakton came into the game with a 15-2 record. The Cougars were experienced winners with 11 seniors who had already won a state championship in 2012. But Westfield would not be intimated.
Off the opening faceoff, senior Grace Horgan stormed down the field and scored the first goal of the game 13 seconds in.

Oakton responded a few minutes later with a goal, but then senior Meghan Heick scored three of her five goals on the day in a 5-minute span. Combined with another goal from Horgan, Westfield now had a 5-1 lead.
"Without our seniors this year, we never could have made it this far," Westfield head coach Katie Ruch said. "They were everything we needed tonight."
Following this spurt, Oakton head coach Jean Counts took a timeout in an effort to inspire her players, and they responded.
Oakton went on a 5-1 run of its own in the final 10 minutes of the half to tie the game at 6 heading into halftime.
The question coming out of the half was who would come out with momentum to start? Heick answered this question with a goal immediately off the opening faceoff, giving Westfield the lead. This goal took only 8 seconds to materialize.
However, Oakton refused to take a back seat to the Bulldogs and continued to fight. The game was tied at 10 with 13 minutes left. But then senior captain Molly O'Sullivan gave Westfield the lead for good.
Down the stretch, freshman goalie Abby Smith came up with save after save to preserve the victory.
"We had lost to them twice in title games this season," Ruch said, "so we had nothing to lose tonight."
Westfield dominated possession throughout the game. Heick played well in the final game of her career, scoring five goals and rallying her team to victory. Grace Horgan and O'Sullivan also added three goals of their own for the Bulldogs.
Westfield finished the season with a 15-3 record. The Bulldogs came into the season with one goal in mind. They beat the defending champions from Madison in the semifinals and finished the season off with the taste of victory on Sunday night.