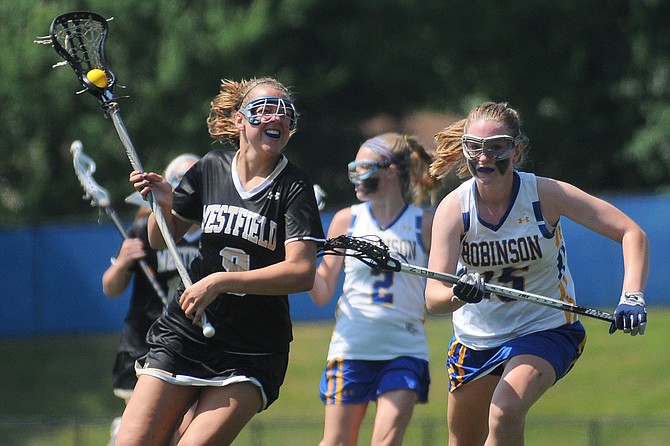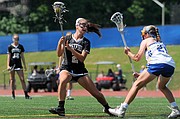 The Westfield girls' lacrosse program graduated eight seniors from its 2014 state championship team, including all­state athletes Molly O'Sullivan, Meghan Heick and Rachael Ulsh
While the loss of talent and experience led to some struggles during the 2015 regular season, the Bulldogs managed to qualify for the state tournament with a 14-13 victory over Langley on May 28 in the 6A North region quarterfinals.
On May 30, Westfield fell short in its effort to advance to the region championship game, losing to Robinson 19-13 in the semifinals at Robinson Secondary School. Despite the defeat, several young Bulldogs showed why Westfield has a bright future --- and could make some noise at states this year.
Freshman attacker/midfielder Nicki McNamara scored a team-high five goals for Westfield and sophomore midfielder Olivia Markert added four during the Bulldogs' loss to Robinson on Saturday morning. The young duo helped keep Westfield close against a Rams team that entered the game with a 17-1 record, including a 21-5 victory over the Bulldogs in the regular season and a 20-15 win over Westfield in the Conference 5 tournament semifinals.
McNamara scored Westfield's first three goals of the second half. Her fifth goal of the morning cut Robinson's lead to 12-10 with 20:06 remaining in the contest.
Markert scored two goals in each half. Her third goal of the morning cut Robinson's lead to 14-11 with 15:57 remaining, but the Rams scored five of the next six goals to pull away.
"A lot of our young players have really stepped up," Westfield head coach Katie Ruch said. "Olivia, a sophomore, had four goals, Nicki had five. They're continuing gaining confidence and experience through all this, as well."
McNamara has been Westfield's go-to goal scorer late in the season. Along with a season-best eight goals during the Bulldogs' loss to Robinson in the conference tournament, the freshman scored seven goals during Westfield's region semifinal win over Langley, which secured a state berth.
"Everyone let me in," McNamara said of her teammates' acceptance during her freshman season, "and then once I got a little comfortable I started realizing how I could help and I just do everything that I can to help the team."
What makes McNamara an offensive threat?
"I think her vision of scoring opportunities and also she's fast and she can also adjust to whatever position we put her in," Ruch said. "... She's coachable and that makes a big difference in her wanting to get better because she wants to see how she can improve and change for next game."
Junior midfielder Angela Stevenson scored three goals for Westfield and junior defender Sarah Horgan added one.
The loss dropped Westfield's record to 9-7, but the Bulldogs' season remained alive. Westfield will face Centreville in the region consolation game at 5 p.m. tonight at Robinson.
The Bulldogs will compete in the 6A state tournament, which begins June 9 at Lake Braddock Secondary School.
"I know a lot of people looked at us like, 'Westfield's lost all their talent, they won't be able to make it back,'" Ruch said, "and that was a real motivator to be able to return and defend our title."