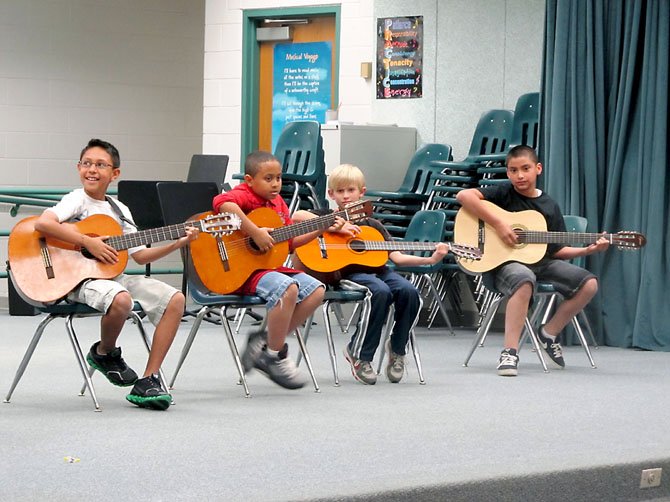 The students packed into Halley Elementary School's cafeteria were loud, unruly and boisterous.
But then so were the teachers, parents and volunteers cheering them on.
This display of school-approved rowdiness was a celebration of the success of an innovative after-school program that targeted at-risk and underprivileged students, courtesy of the Lorton Community Action Center (LCAC).

On May 2, about 200 people gathered for a spirited after-school pizza party and talent show that featured hip-hop, swing and salsa dancing, a parade of papier mache creatures, and a guitar band known as "The Beetles."

"I can't tell you how thrilled I am with this program," said Linda Patterson, executive director of the LCAC. "This helped keep kids at school and jazzed about learning in a new way. Halley is a special place because it has that level of commitment to these kids. When they found out about the program, they were all over it."
Patterson said the program, offered two afternoons each week, was designed to serve more than 350 at-risk children in fourth through sixth grade, along with their younger siblings.
ACCORDING TO PRINCIPAL Jamey Chianetta, William Halley has an enrollment of about 750 students, and 30 percent participate in the free and reduced lunch program. The program, she said, provided a way for many low-income families in the greater Lorton area to access after-school or enrichment programs. "This was a fantastic program," Chianetta said. "The students and the teachers had a great time."
LCAC raised about $40,000 to fund the program, which included transportation. "For families who are already stretched to the limit, perhaps working two jobs, this takes barriers like transportation and cost out of the equation and provides safe, quality after-school programs," Patterson said.
Part of each afternoon included homework help and a snack. Children had the opportunity to register for a variety of enrichment activities and clubs, including engineering, soccer, chess, cooking, dance, photography, Legos, etc.

"We knew the program was successful when the same students who frequently missed school were the ones staying after school to take these programs. Their excitement made us excited," said teacher Phoebe Boatright. "It was a labor of love."
Boatright and Kate Crane, the school's counselor, coordinated the program. "Part of the success, I think, is about the relationships the children built. They had the opportunity to meet other teachers and children they wouldn't meet during the regular school day, as well as volunteers from the community," Crane said.

Christine Bachman of Springfield was one of those volunteers. She came to the school twice a week in the spring to teach photography to the students.
"My group traveled around taking photos of all the other clubs," Bachman said. "They loved the fact that you showed up every week. It was about that interaction as much as it was about having them learn photography."

"One of the best things is that the students experienced things they'd never get to experience. The four boys in The Beetles never picked up a guitar before this program. Now, the stepfather of one child said he was saving up to buy his son a guitar," Patterson said.
AFTER-SCHOOL PROGRAMS are often seen as an effective way to keep children safe and supervised as more parents continue to work outside the home. Education experts also believe that the after-school hours are an opportunity to further engage students in academic, social and physical activities.
"Research documents that high-quality after-school programs have an important positive impact on the lives of children, and intervention at the elementary level is crucial," Patterson said.
If anyone still wonders whether quality after-school program have a positive impact on elementary school children, Crane said they should read some of the notes Halley students wrote about this year's program.

"We received dozens of notes, but this is one of my favorites," Crane said, reading a note from a Halley Elementary fifth grader:
"My favorite thing was that Mr. V. inspired me to let out my anger by dance, and that dancing is fun."
Patterson said she has been meeting with principals at various schools in Lorton to launch similar programs, adding that LCAC is hoping to expand the program next year.
But she added that funding is key.
The partnership with Halley is funded by donations from various individuals, community groups and corporations, including the Dominion Foundation, Vulcan Materials, Davis Industries, the Moose Family Center and the William Halley PTO.
Anyone interested in supporting the program should contact Linda Patterson or Andrea Cochrane Tracey at 703-339-5161. For additional information about LCAC, call 703-339-5161 or visit www.lortonaction.org.