Flying conditions were near perfect on Sunday, May 19, as RC Mania got underway in the back fields at West Potomac High School. Hosted by the West Potomac High School Engineering Club, the Technology Student Association and Technology and Engineering Department, the event drew upon dozens of model airplane, cars and trucks and boat enthusiasts.
The RC planes and helicopters took over the stadium field using the track and the field surface as runways. The planes attempted to keep the flight path around the field to a clockwise rotation. Tamarack Stables in Lorton brought down ponies for the children to ride. Other sponsors included: The Genuario Companies, West Potomac High Sc
Photo Gallery
2nd Annual RC Mania at WPHS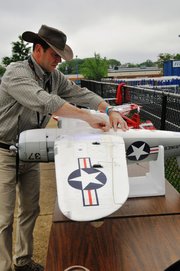 Click Photo for Flash
hool and The Hobby Hanger. All proceeds from the event benefit the West Potomac Engineering Department.